At Kettering Health Foundation, we're all about giving back. Whether it's because of the nurse who held your hand during chemotherapy or the doctor who saved your life, we connect your gratitude and gifts with patients, caregivers, and students who need it.
Our priority is our community, and our mission is to bring together compassionate care with innovative technology to improve our communities. In the spirit of our namesake, Charles F. Kettering, we uphold the Kettering Family legacy, which is far more than a reverence for the past. It is an exciting and challenging vision for the future.
Who We Serve
Kettering Health Foundation provides direct support for our patients and their families. We additionally support technological advancements that allow Kettering Health to continue to provide our community with the best diagnostic and treatment options available.
In 2022, we raised more than $3.6 million distributing over $2.04 million to support 1,500+ patients, students, and employees in need of assistance.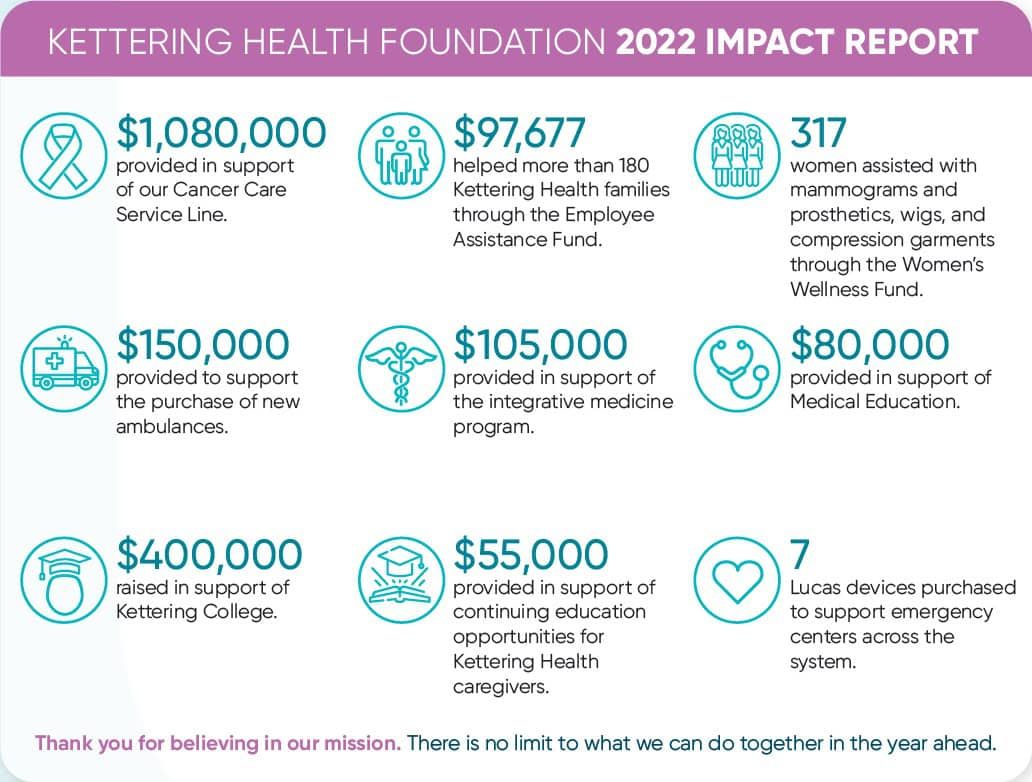 We are the supporting arm of Kettering Health Main Campus and its system, including
The key areas we support include the following:
Projects that have recently been funded by Kettering Health Foundation include:
Courageous Beauty through Kettering Health Cancer Center
PET scan upgrades for Kettering Health Main Campus
Building renovation at Kettering Health Cancer Center
Wheelchairs for Kettering Health Miamisburg
COVID-19 support, including respite rooms for staff
Lucas devices for emergency departments
Bus tickets for patients in need
Kettering College Scholarships
How to Get Involved
We are honored by the support we receive from the community that allows us to pursue our mission. There are many ways to get involved, including giving, attending an event, sharing your story, or volunteering.
Make a gift
Thank you for your interest in making a gift to Kettering Health Foundation! We are honored that you are considering making a gift now, planning a gift for the future, or both.
Attend an event
Events are a cornerstone of Kettering Health Foundation and are a great way for you to get involved with the foundation and support our work.
Please join us for these events:
Share your story
The gift of your story recognizes the caregivers who made all the difference and gives hope to future patients who may go through a similar journey. Contact us to share your experience.
Volunteer
Volunteers are critical to the operation of Kettering Health. We are proud to partner with our volunteers to support their work through funding projects that are important to them through the volunteer fund at each hospital.
Learn more about becoming a volunteer or sign up to volunteer at Kettering Health.
Contact Us
Phone: (937) 395-8607
Fax: (937) 395-8327
Email: development@ketteringhealth.org
We are located at the Stonebridge House at 1079 W. Stroop Rd.
Address mail to:
Kettering Health Foundation
3535 Southern Blvd.
Kettering, OH 45429
You can also contact us online.