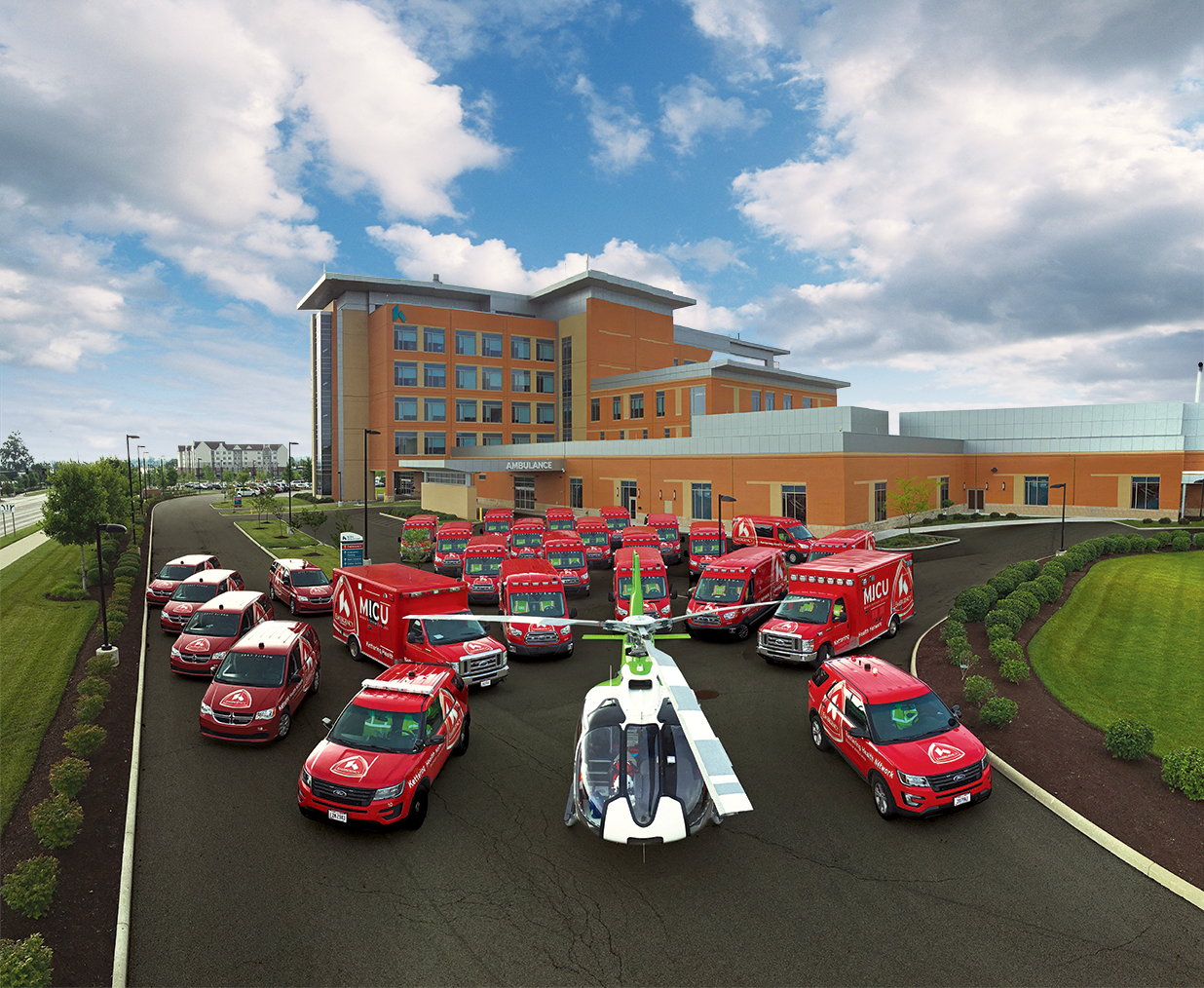 Share the Care
Choose an option below to share this page
Our transportation services provide dedicated vehicles to transport patients in and out of medical centers, emergency departments, and outpatient facilities. With a variety of vehicles equipped for different situations, we keep our patients safe and secure during transport.
Our Vehicles
Air Transportation: Our team works seamlessly with our air-transportation partner, MedFlight, to transfer patients needing time-sensitive care across Ohio and surrounding states.
Emergency ambulances: These ambulances provide emergency medical services to area emergency departments or inter-facility transportation from small or rural medical centers to tertiary medical-care facilities. 
Mobile intensive care units (MICU): Our Mobile Intensive Care Unit can transport patients dealing with the most complex cases. A skilled team consisting of a registered nurse, paramedic, and driver cares for the patient during transport.
Non-emergency ambulances: We provide basic and advanced non-emergency ambulance transportation when medically necessary. 
Wheelchair vans (ambulettes): Our drivers safely transport patients who use wheelchairs to physician appointments, outpatient procedures, or special events. 
Coordinating a System of Care
The Kettering Health Operations Command Center coordinates all Kettering transportation services. Our dispatch team works side by side with nurses, physicians, and leaders to ensure patients receive the most appropriate care in a timely manner.
Each vehicle is equipped with GPS and broadband technology to provide real-time location updates. These updates allow dispatchers to assign the closest available resource for patients in need.
Each ambulance and Mobile Intensive Care Unit is equipped with a cardiac monitor and electronic patient-care reporting system allowing for seamless transmission of information to the medical center.
If you need a physician certification for transportation, we have provided them below for your convenience.
Contact Kettering Transportation Services
Questions? Please call us (937) 762-5919 to learn more about our transportation services.
Work for Kettering Transportation Services
Join our amazing team of EMS professionals and provide care alongside Kettering Health for communities all over Ohio.
Benefits include the following:
Competitive compensation
Education and training
Flexible scheduling
Health insurance
Paid time off
Uniform allowance
Positions
Registered Nurse
Ohio RN licensure required
AHA or ASHI: BLS, ACLS, PALS
Can provide BLS, ACLS, and PALS upon hire
Continuing education required (and provided) throughout employment
Must pass annual protocol evaluations
Paramedic
Ohio Paramedic required
AHA or ASHI: BLS, ACLS, PALS
Can provide BLS, ACLS, and PALS upon hire
Continuing education required (and provided) throughout employment
Must pass annual protocol evaluations
Variety of shifts available – 8, 10, and 12 hours
EMT-Advanced
Ohio EMT-Advanced required
AHA or ASHI BLS required
Continuing education required (and provided) throughout employment
Must pass annual protocol evaluations
Variety of shifts available – 8, 10, and 12 hours
Emergency medical technician
Ohio EMT or AEMT required
AHA or ASHI BLS required
Continuing education required (and provided) throughout employment
Must pass annual protocol evaluations
Variety of shifts available – 8, 10, and 12 hours
Communications
Ability to multitask
Customer-service oriented
EMS experience preferred
On-the-job training experience of approximately 6-8 weeks