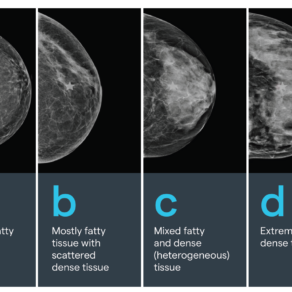 Share the Care
Choose an option below to share this page
What Is Breast Density?
Dense breast tissue is classified at four levels. These levels are based on the amount of fat, glandular tissue, and fibrous connective tissue in the breast. Levels include the following:
A – Fatty
B – Scattered Fibroglandular Densities
C – Heterogeneously Dense
D – Extremely Dense
Mammograms are somewhat less effective at detecting cancer in women who have dense breasts. Similar to dense breast tissue, cancers appear white on a mammogram, making it more difficult for the radiologist to detect.
At Kettering Health Breast Centers, we use Volpara Density software to automatically and objectively determine your breast density and provide you more accurate results and next steps.
Why We Measure Breast Density
Measuring breast density adds another layer of understanding your breast health. Having high breast density has been linked to a higher risk of developing breast cancer. Measuring breast density
Shows your breast composition.
Provides a better understanding of your cancer risk.
Identifies potential needs for additional screening tools, such as breast ultrasound or MRI.
Dense Breasts Tissue Needs Special Treatment
Patients with dense breasts may require follow-up imaging to confirm mammogram results.
Tests may include additional mammography views, breast ultrasound, or a breast MRI. We will contact you if we need to take a closer look.