Emergency and Trauma Care
Want to learn more about this at Kettering Health?
Learn More
A dusty breeze whips through the stilled gravel pit. And the cloudless sky offers no reprieve from the late-July sun at the top of the three-story conveyor—where firefighters have responded to a 911 call. A man, an employee at the gravel pit, has his arm caught in the machinery.

The firefighters know he needs to get to a hospital. And soon. But they can't remove him safely without the equipment or training found at a hospital.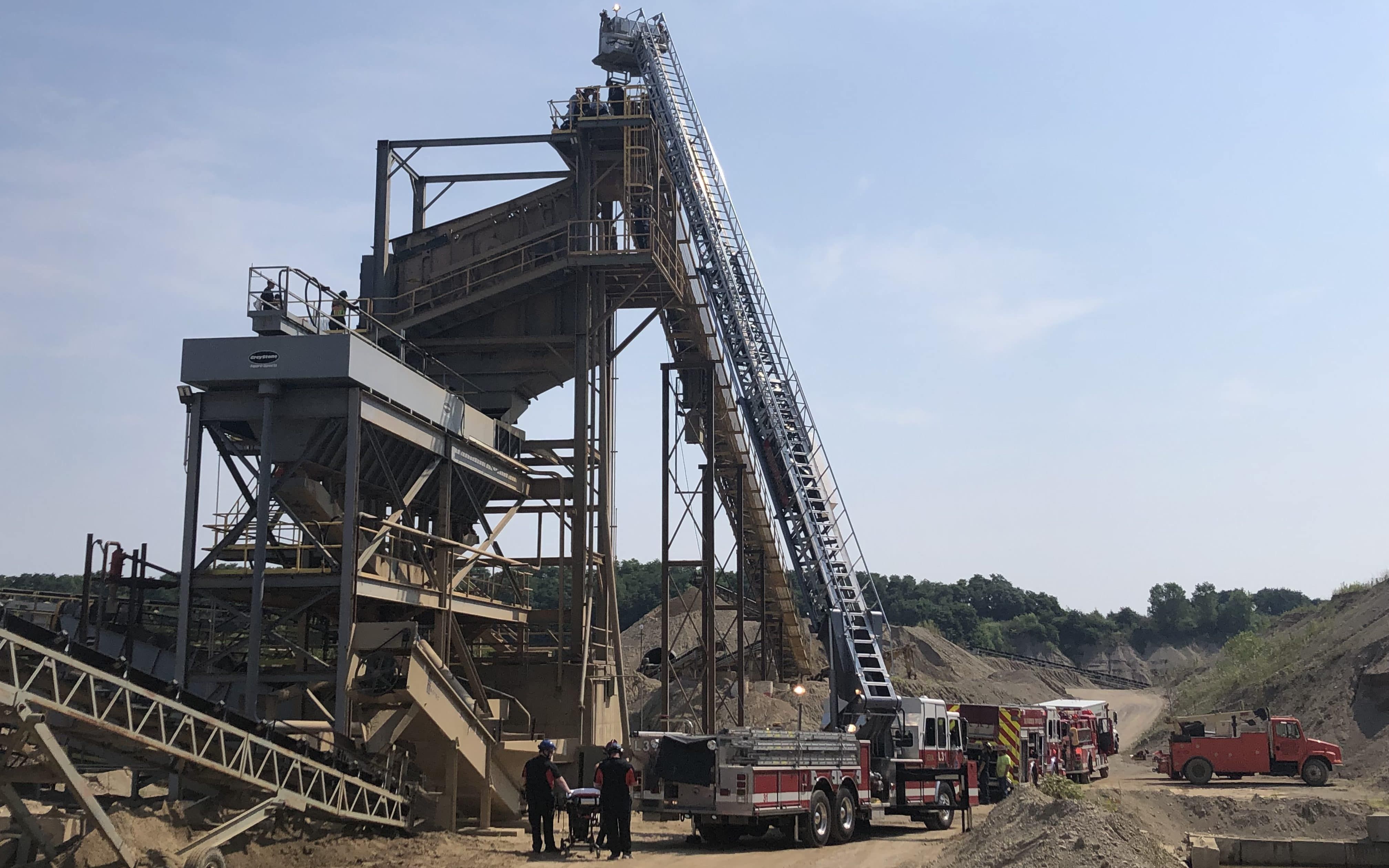 A Kettering Health ambulance arrives. Dr. Ihab Elhassan, a trauma surgeon, and Connor Wolfe and Drew Springer, physician assistants (PAs), step out. Wearing helmets and harnesses, they look like mountain climbers.
Escorted by a firefighter, they carry red duffle bags of hospital supplies: gowns, units of blood, medicine, and, if needed, equipment to amputate.
At the top, Xenia and Beavercreek firefighters work tirelessly. Some care for the patient. Others secure rigging for a Stokes basket (a large metal-framed basket) to the top of a fire ladder. They'll use it to lower the patient three stories to safety.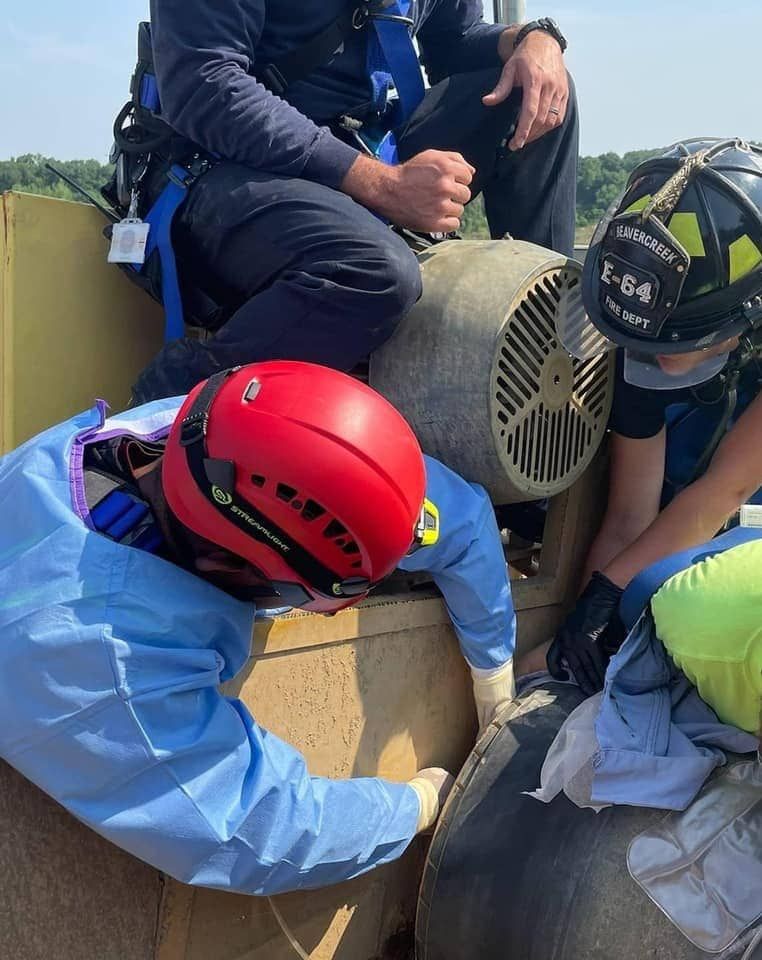 Dr. Elhassan assesses the patient. The only way to free (or extricate) him is to amputate his arm. Connor and Drew assist Dr. Elhassan, checking vitals and hanging blood. For the patient, it's life or limb.
And it would be if this were a life-threatening incident.
Today, though, is training between local fire departments and Kettering Health's Surgical Emergency Response Team (SERT).
"Expect the unexpected"
Created by Dr. Douglas Paul in October 2016, the SERT team became the first of its kind in the area to take the care, expertise, and resources found in a hospital beyond its walls.
"We bring additional trauma-care resources, assisting first responders and, most importantly, caring for the patient when getting to a hospital right away isn't an option," says Ryan Konkel. As EMS coordinator for Kettering Medical Center, Konkel works with local fire departments to talk about SERT and to help prepare training.
For Konkel, SERT seeks to collaborate with first responders on the scene of an incident. Training, then, fosters a collaborative approach. "We're their guests. We bring our people and supplies to help them [fire departments] to accomplish what they need to."
The training, which involves every layer of personnel involved in a real SERT call, mimics as much of real life as possible. "We want them to expect the unexpected," says Konkel. "Which is what they'd encounter on a call."
"Rescue 61"
Earlier that morning, in a parking lot a mile from Phillips Sand & Gravel Inc., Captain Brewer of the Beavercreek Township Fire Department briefs the group, speaking over the hum of firetrucks and ambulances ready for action. "Everything is live. Everything is real," he reminds them.
They discuss who's involved (including the volunteer patient, and a Phillips Sand & Gravel employee), what radio channels to hear from, how to stay safe, and what calls to listen for.

"Rescue 61" will be the call that sets things in motion.
This training brings together twenty people from Xenia's and Beavercreek's fire departments, Soin Medical Center, and Kettering Health Main Campus, including Dr. Elhassan, Connor, and Drew.
After the briefing, Konkel disperses gear, supply bags, and safety vests with "SERT" in bright yellow across the back.
As the team looks through their supplies, "Rescue 61" sounds through the radio.
The best care for life's worst moments
"SERT calls are part of a succession of steps," says Konkel.
First responders already have extensive training and supplies to care for people in life's harshest moments. On occasion, though, more precise material and expertise is needed to keep patients alive and to get them to a hospital.
When that occurs in the Miami Valley, they can call for Kettering Health's SERT team.
Every SERT team arrives from Kettering Health Main Campus (a Level II trauma center) with an attending trauma surgeon, two PAs, and a surgical technician or nurse. When called, others step into their roles at the medical center so the SERT members can respond.
At a scene, they come alongside first responders, offering whatever is needed. They may hang blood, administer medicine, or provide surgical skills. All to ensure patients have the best care in life's worst moments.
In the past five years, SERT has responded to eight calls. And this training help them stay sharp for the next one.
"We try to set up as many of these as possible," says Konkel. "The more we train, the better prepared we are."
1 hour and 47 minutes
Back at the gravel pit, at top of the conveyor, the 16 firefighters and medical staff move in concert on a platform no larger than a parking space. They free the patient from the conveyor and move him to the Stokes basket, lowering him to the ambulance below.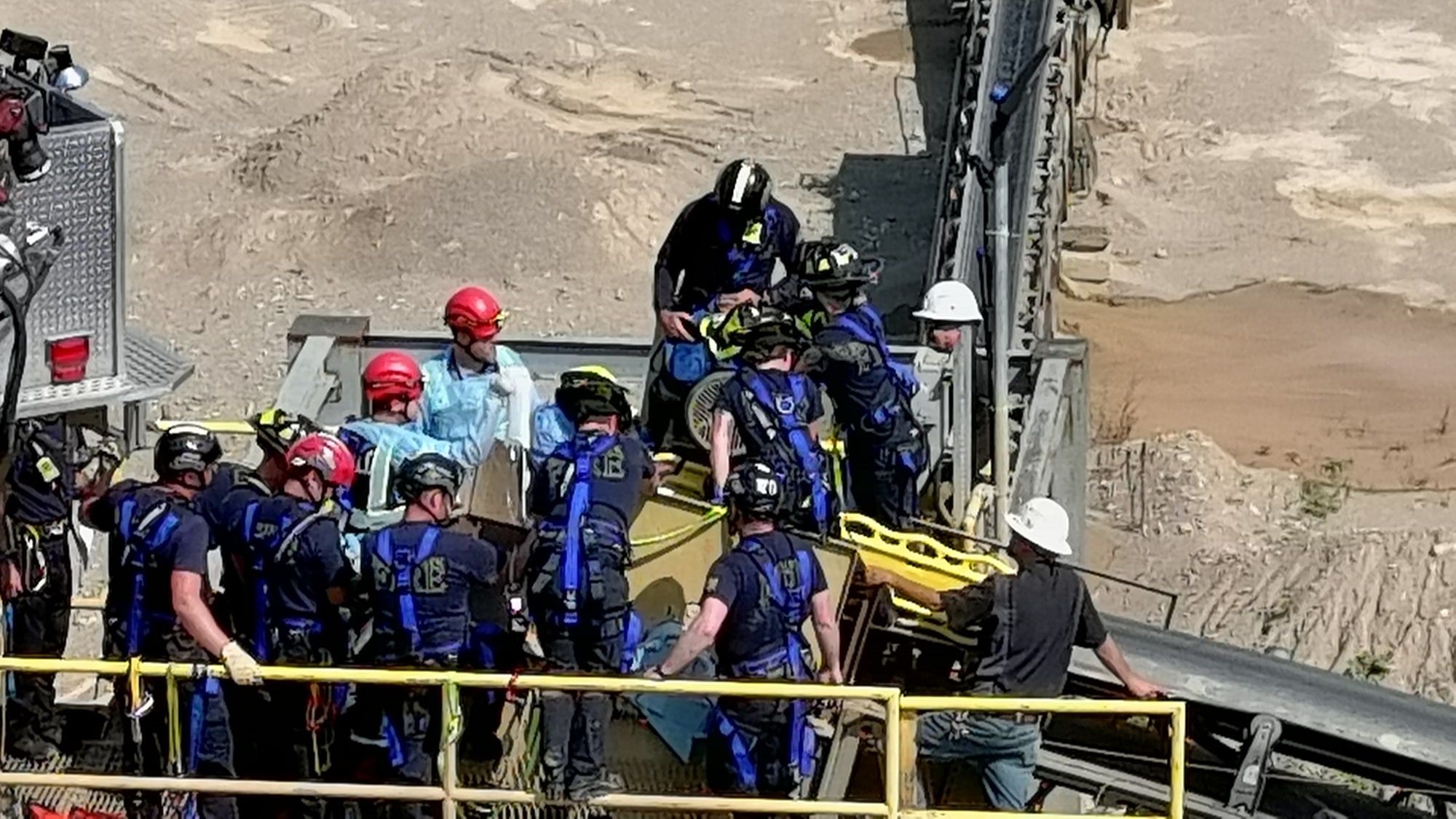 He's taken to a MedFlight helicopter that has landed nearby. As the ambulance reaches the helicopter, Captain Brewer stops a timer.
1 hour and 47 minutes.
For SERT training, Captain Brewer later shares at a debrief, it's a great time.
After the debrief, the Kettering Health team—Ryan Konkel, Dr. Elhassan, Connor, and Drew—ride back to the parking lot. The air conditioning runs at full blast.
"That's the most realistic training I've done," shares Dr. Elhassan. "It was as real as it gets," responded Connor.
Although it was only training, for the SERT team, it was 1 hour and 47 min. to ensure that the next person who needs the safety and care of a hospital—but can't get there—knows that the hospital is on its way to them.
The month's most popular health news, stories, and tips in your inbox.
Sign Up