Emergency and Trauma Care
Want to learn more about this at Kettering Health?
Learn More
Tony Alexander feels the thud of a kick drum shake his chest. Amplified guitar riffs follow, echoing throughout Paul Brown Stadium (now Paycor Stadium).
On the field below, the sound check concludes before Friday night of the Cincinnati Music Festival. Stadium staff anticipate 34,000 people.
Tony adjusts the volume on his radio. Behind him, concertgoers gather outside Gate C. The gate, tonight's main entrance, is a few steps away from the Plaza, the largest of Kettering Health's five first-aid stations in the stadium.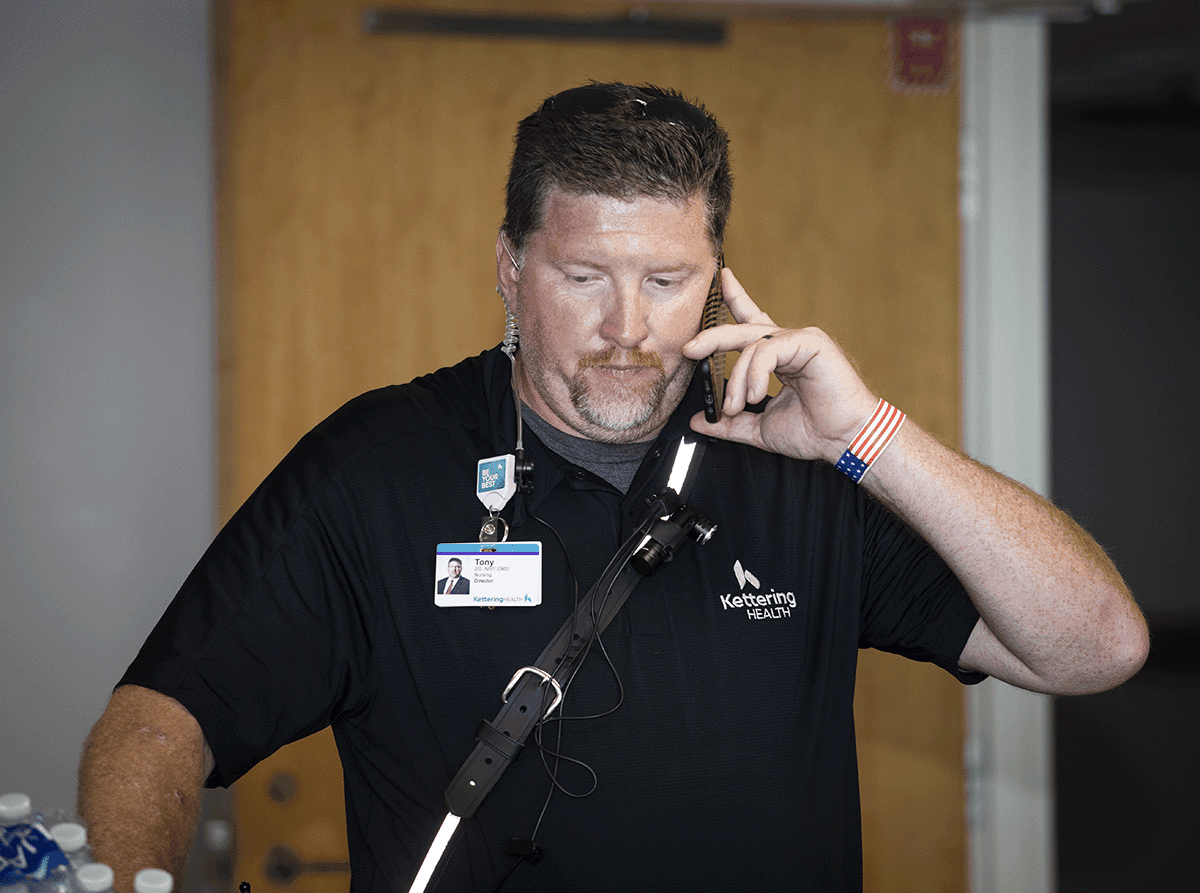 He looks the way one would expect Kettering Health's director of emergency management and outreach to look: A walking mission-control center, he communicates through a radio, an earpiece connected to his cell phone, and face-to-face conversation. He turns to four nurses, two of whom are wearing ambulance-red and neon-yellow backpacks filled with 20 pounds of medical gear. "Take care of yourselves," he reminds them in a fatherly tone. "It's hot."
Today's temperature hovers at 95 degrees, nearly 110 on the field. Add the weighted blanket of humidity, and the stadium is equal parts concert venue and sauna.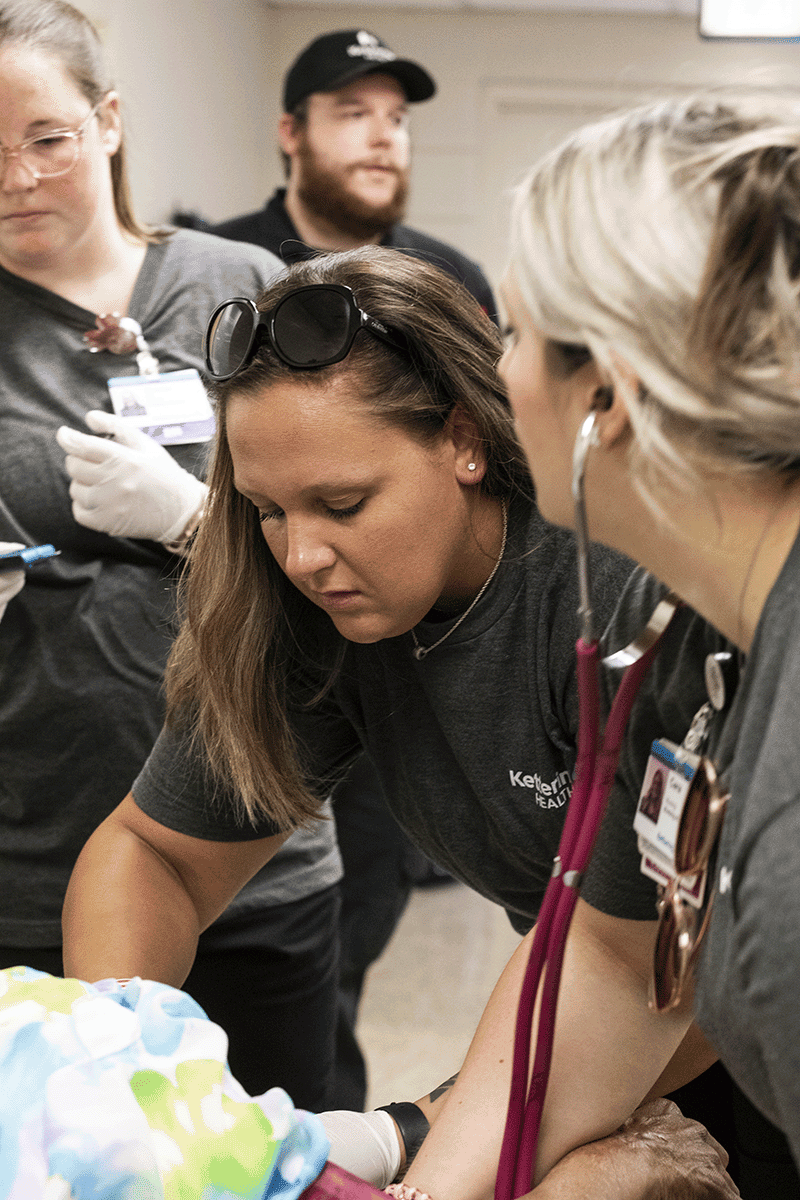 Tony walks into the Plaza. Inside, an air-conditioner the size of a small car roars as others ready water, ice (lots of ice), and medical supplies—organized on large roller carts—before the gates open at 6:30. The room holds three patient beds separated by curtains and two cots to transport patients to ambulances outside. Tony talks with Nancy Pook, MD, tonight's on-site physician. A digital wall clock reads 6:21.
A wave of heat cuts through the artificially cooled air as the Plaza doors open. Stadium staff bring in two women who collapsed outside the gate—and the room snaps into action.
1400 hours of preparation
The Cincinnati Music Festival is the second stadium event for Kettering Health's Emergency Outreach team since the Bengals announced Kettering Health as their official healthcare provider in May 2022. As part of the partnership, the Outreach team provides pre-hospital services to concertgoers and fans in the stadium.
Four days after the announcement, the Outreach team arrived for their first stadium event: a weekend of Garth Brooks concerts. But weeks before Brooks took the stage, they needed to create protocols, transport supplies, and learn the ins-and-outs of the 1.8-million-square-foot stadium.
"We put in 1400 hours of preparation," says Tony. This included meetings among Outreach team leaders such as Tony, the Department of Homeland Security, the FBI, Cincinnati Fire and Police departments, and stadium staff. "We did in six weeks what would normally take six months," says Bill Mangas, Kettering Health's executive director of emergency and trauma outreach.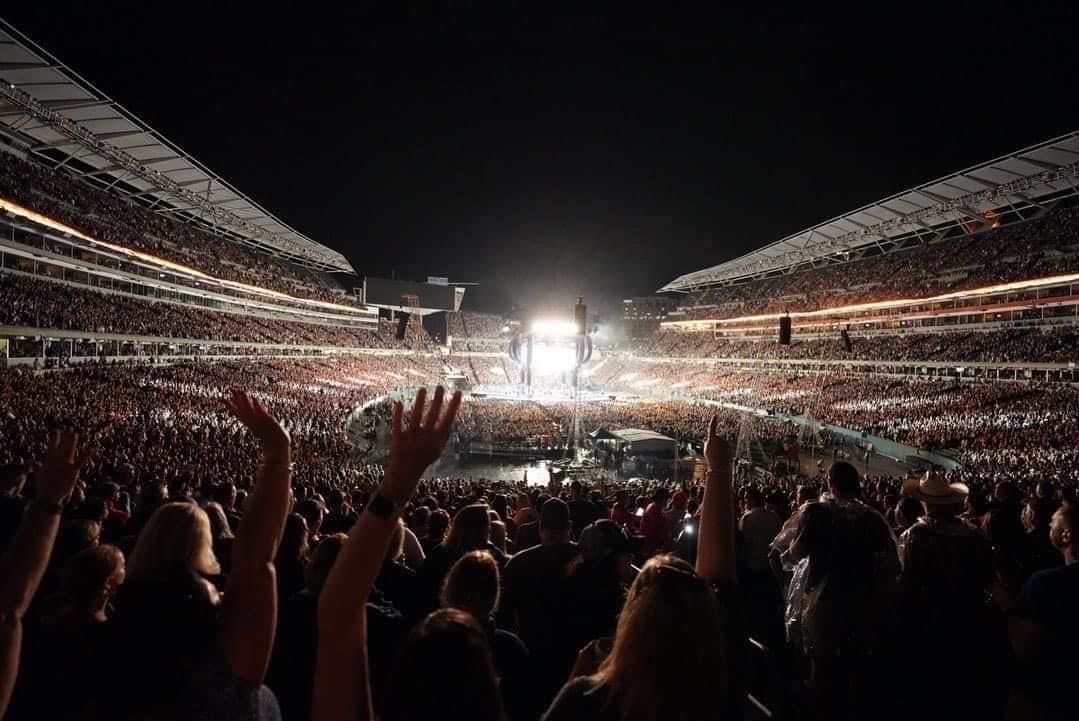 Event medicine is nothing new for the Outreach team, who've served at many local events, such as the Dayton Air Show and the Air Force Marathon. But preparing to provide care on a scale the size of a football stadium requires experience and ingenuity. "The challenges are different at a stadium versus a 26.1-mile course," explains Tony. "At the stadium, nearly 70,000 people are confined in a small space. You're preparing care for a small city."
Baptism by rainwater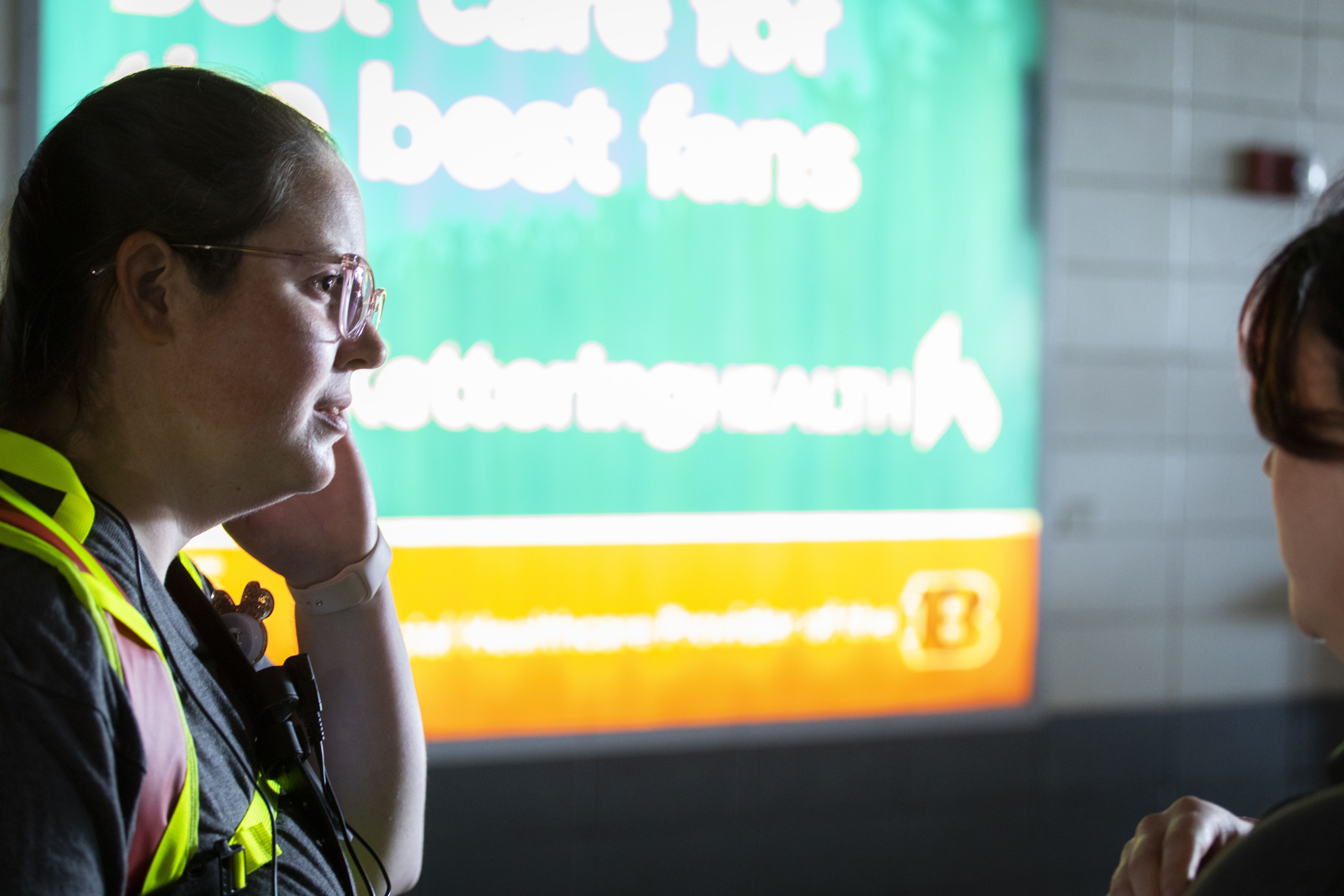 Ready as they were for the Garth Brooks concerts, Tony's team unexpectedly found their preparations—and themselves—baptized by rainwater. On Saturday night, severe weather forced the stadium's leadership to issue its first-ever "shelter in place" order, flooding the stadium's tunnels with 80,000 people—more than the populations of Kettering and Centerville combined. It offered an unexpected test of the team's planning and communication. They exceed expectations.
"This was the largest event we've had at the stadium," says Steve Johnson, managing director of Paycor Stadium. "At that capacity, with the weather, they were where they needed to be, and their communication remained clear and effective."
"Where is my seat?"
In the Plaza, Katie Ball sits with one of the overheated women from Gate C. A Kettering Health Hamilton emergency nurse, Katie speaks softly while remaining audible over the air-conditioner and the clamor of the concert muffled by the doors.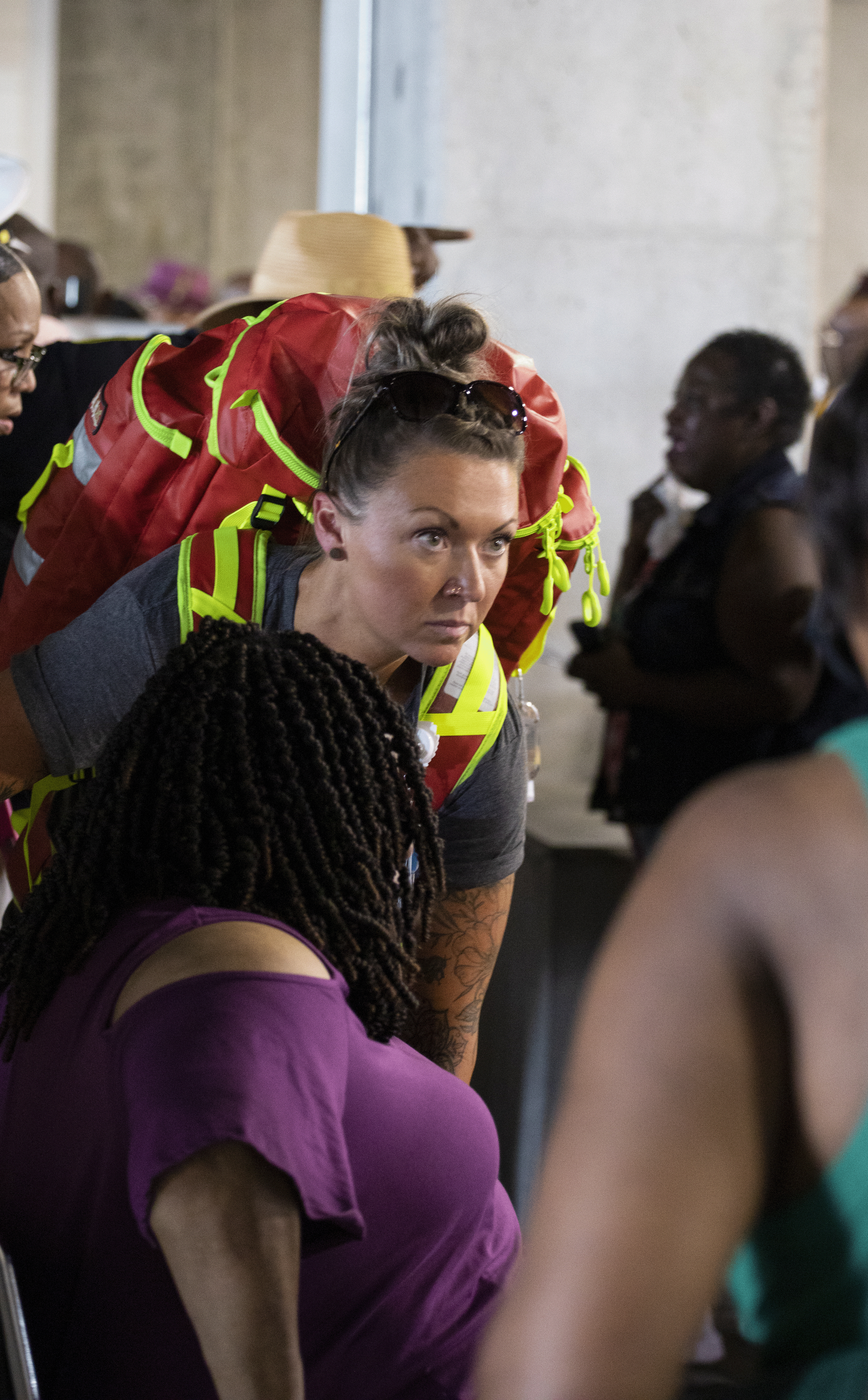 After some rest and water, the patient stands with Katie's help. Katie then grabs her heavy medical backpack and walks toward the doors. She and Harley Paxon, a Kettering Health Miamisburg emergency nurse, are one of three roaming teams tonight. Like the other 30 team members, they wear gray shirts with "MEDICAL TEAM" across the back; pants with cargo pockets holding stethoscopes; and tennis shoes. When the concert ends at 12:45 a.m., they'll have walked more than eight miles in six hours.
"It's overwhelming and exciting," says Katie. "But I love being among the community."
They roam portions of the stadium, responding to anyone needing care. Dehydration burdens most patients, even those in the shade of the concession-stand tunnels where the humid air is popcorn scented. As more people enter, Katie, Harley, and the other roaming teams increasingly encounter tonight's most popular—and unanticipated—question: "Excuse me, where is my seat?"
A mass casualty incident
"Event medicine is a juggling act," says Tony. "There's always an element of chaos, but you try to control what you can." That chaos may include directing hundreds of attendees to stadium staff for help finding their seats. Or it might be the challenges of torrential rain or oppressive heat.
At 11 p.m., the Cincinnati Fire Department declares downtown an MCI—mass casualty incident—because of the heat. Doing so funnels resources to area hospitals, helping them stay on top of the blistering number of heat-related emergencies coming from the concert and a nearby Reds game.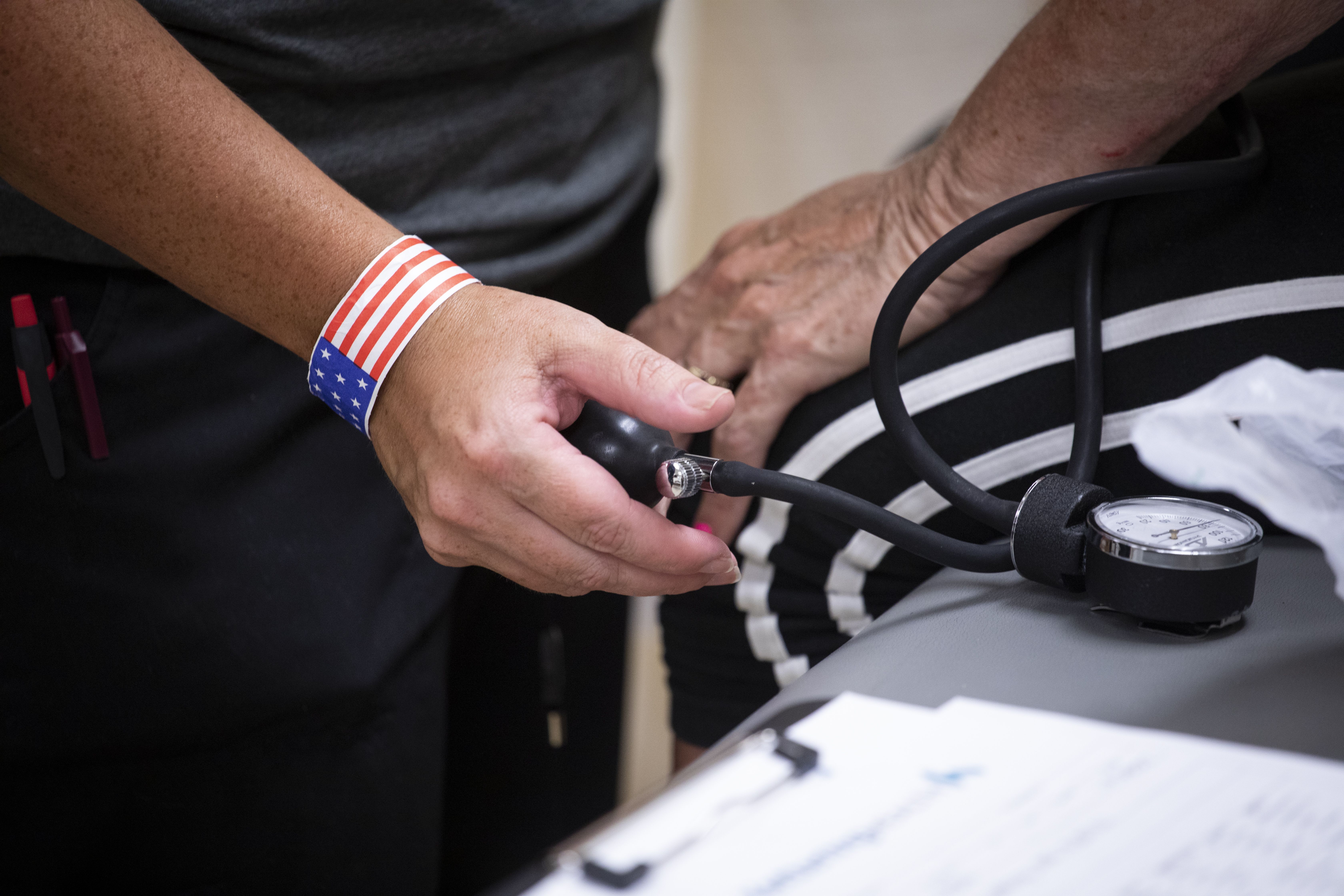 With almost 30 years' experience, Tony has seen event medicine grow more challenging, even dangerous. He knows his role is to care for those at an event by caring for his team, preparing them to care for others during normal and critical situations.
"Failure to plan is failure on my part," says Tony. "You're only a leader in a moment of crisis. Other than that, you're just in charge."
34,000 people unaware
Tony walks toward the Plaza as the night's last act finishes.
On his way, he pauses, taking in the concert's final minutes. As the stage and stands glow purple and blue, the artist's voice and the crowd's singing melt together to become a 34,000-person choir—most of whom sing unaware of the canopy of care around them, until they need it. For Tony, that's how it should be.

He and the team wait to leave until the stadium is empty of concertgoers. Hitting the road at 1:30 a.m., Tony starts his two-hour drive home. In fewer than 12 hours, he'll return to lead another team of Outreach coordinators and nurses for Saturday night.
Janet Jackson is headlining. Stadium staff expect 40,000 people.
And the heat index is projected to be 102 degrees.
Learn More About Kettering Health's Partnership with the Cincinnati Bengals and Paycor Stadium
Click Here
The month's most popular health news, stories, and tips in your inbox.
Sign Up