Brain and Spine Care
Want to learn more about this at Kettering Health?
Learn More
ALS spurs an incredible and inspiring journey
Cheers erupt from Arrowhead Stadium, home of the Kansas City Chiefs. Inside, 76,000 fans surround the Cincinnati Bengals and the Chiefs, who stand locked in overtime: 24-24.
Sarah Miracle and her father, Paul Miracle, who traveled together from Dayton, Ohio, watch Bengals kicker Evan McPherson take the field.
Sarah glances at Paul, gripped by nostalgia, amazed that they—and the Bengals—have made it this far.
McPherson kicks the football, sending it 31 yards through the goal posts, and accomplishes what seemed impossible weeks earlier: in over three decades, the Bengals will play in the Super Bowl.
Sarah and Paul watch as waves of Bengals fans cascade toward the field. They want to join. But Sarah has no safe way to help Paul reach the swirl of orange and black below.
Unable to move from his torso down, Paul is limited by his motorized chair—a necessary device in his life with ALS.
Sundays with Sarah
Paul Miracle is a lifetime fan of the Bengals. He began cheering for them as a teenager in 1968 when Coach Paul Brown moved from Cleveland to start and coach the Cincinnati Bengals. "I've been a Bengals fan ever since," he says.
But Paul is more than a superfan. As a wide receiver for Miamisburg High School, he received recruitment letters from Dartmouth and the University of Cincinnati before an injury on the field during his senior year ended his football career.
Instead, Paul exchanged his helmet for a chef's hat. As the owner of a successful catering business in the Cincinnati–Dayton area, he worked Monday through Saturday. So on Sundays, Paul spent quality time with Sarah, watching the Bengals together.
"She loved it," says Paul. "She'd wear a little hairband that had springs with helmets on them."
Paul used Sundays to tap into the power of the storied game of football—its traditions, its emotions, its clashes between heroes and rivals—to instill life lessons and create lasting memories.
"But not during the game," clarifies Sarah. Watching the games on TV with Sarah on his lap, Paul waited until the commercials to explain plays and penalties. There were also moments when the former player couldn't help but strongly object to a bad call from a referee. "I remember getting almost thrown off his knee because he was yelling at the TV," Sarah recalls.
Years of these Sundays strengthened their father–daughter relationship, infusing it with equal parts stubborn optimism and a love for life—the qualities of a Bengals fan.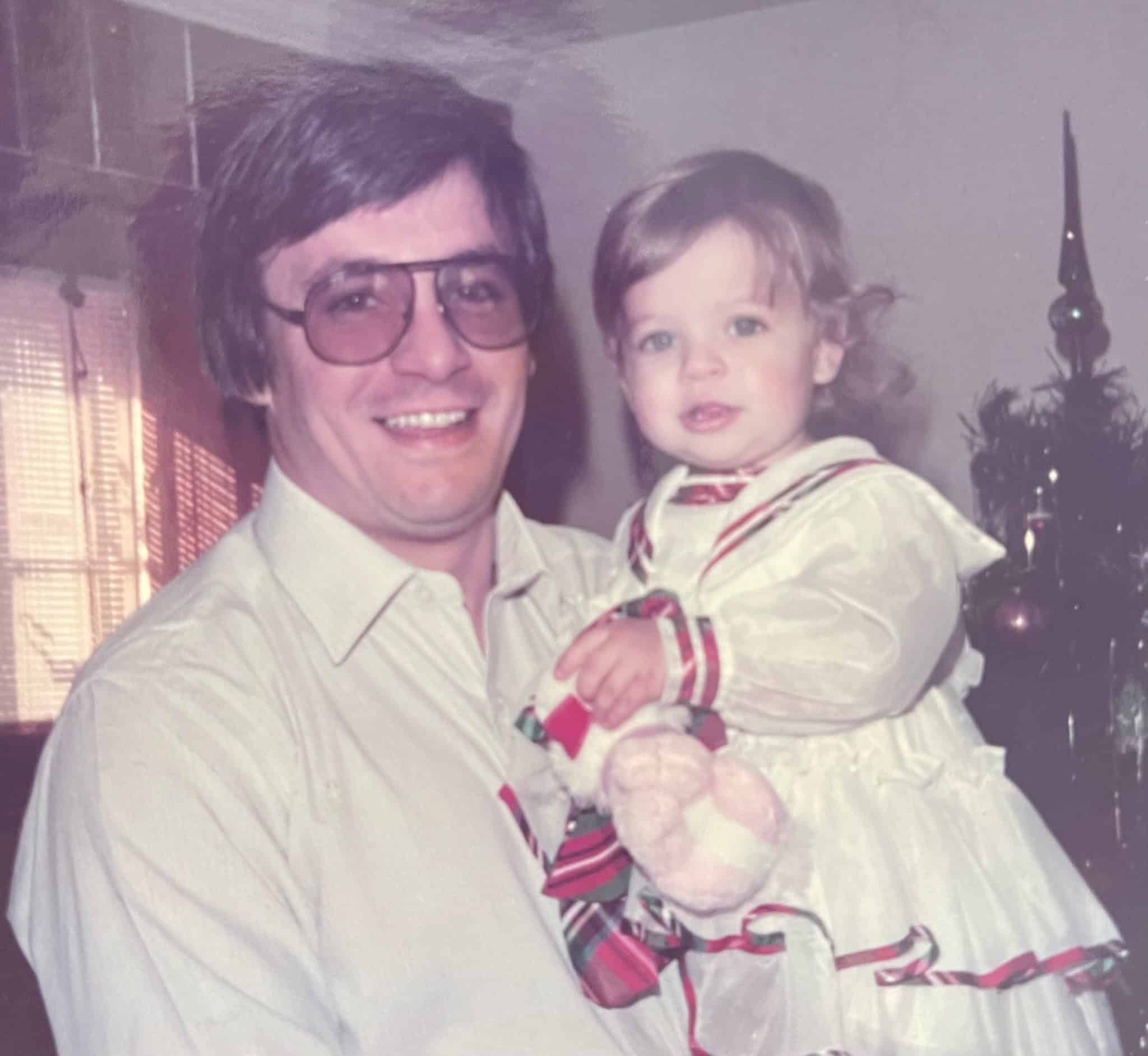 An unforeseen journey
As Paul approached his mid-60s, he retired from catering.
"It was getting too hard to bend over, kneel down, and build displays at big events," he explains. Not long into his retirement, he needed a knee replacement—which started Paul on a journey he never anticipated.
Despite exercising as part of his recovery, Paul noticed his leg strength dissipating. He consulted multiple doctors, some of whom recommended surgery to relieve pinched nerves in his neck. But Peter Bouz, MD, a neurosurgeon with Kettering Health, suspected the cause of Paul's waning strength ran deeper—all the way to the cells in his spine. He referred Paul to a specialist.
Paul learned that he has amyotrophic lateral sclerosis (ALS), commonly known as Lou Gehrig's disease.
"I was devastated," says Paul. "But I wasn't going to be angry at God or feel cheated. I was going to live every minute to its fullest."
Football at the center
At her apartment in Centerville, Sarah was between shifts at Kettering Health Main Campus, where she works as a nurse in a post-anesthesia care unit. Her phone rang; when she answered, Paul shared the news.
"My world just stopped," says Sarah.
The father who once held her on his knee to watch Bengals football was losing control of his legs. And over time, his other muscles would inevitably follow. The life expectancy for someone diagnosed with ALS is roughly two to five years.
But Sarah shares Paul's tenacity for life. Instead of succumbing to fear of the unknown, she focused her mind with the precision of a nurse. "As long as he's fighting, I've got to be fighting, too."
Sarah knew what needed to be at the center of that fight: Bengals football. Neither knew, though, how long Paul's physical fortitude would last. So when the next opportunity to purchase season tickets arrived, they bought them for the first time.
Their tickets were for the 2021-2022 season.
Sundays at the stadium
Sarah and Paul cheered for the Bengals each Sunday, collecting memories like a child collecting football cards. Paul's strength declined. But the season's momentum quickened with the energy of the unexpected.
At the last home game of the regular season, Sarah and Paul watched the clock reach "0:00" as the Bengals beat the Kansas City Chiefs, 34-31. They couldn't believe it: The Bengals were playoff bound.
"I saw him get teary-eyed," says Sarah. Plans raced through her mind. She had to get Paul to the playoff game. This would be the best adventure, she thought. But how? Thankfully, others were willing to help them reach one more game, to make one more memory.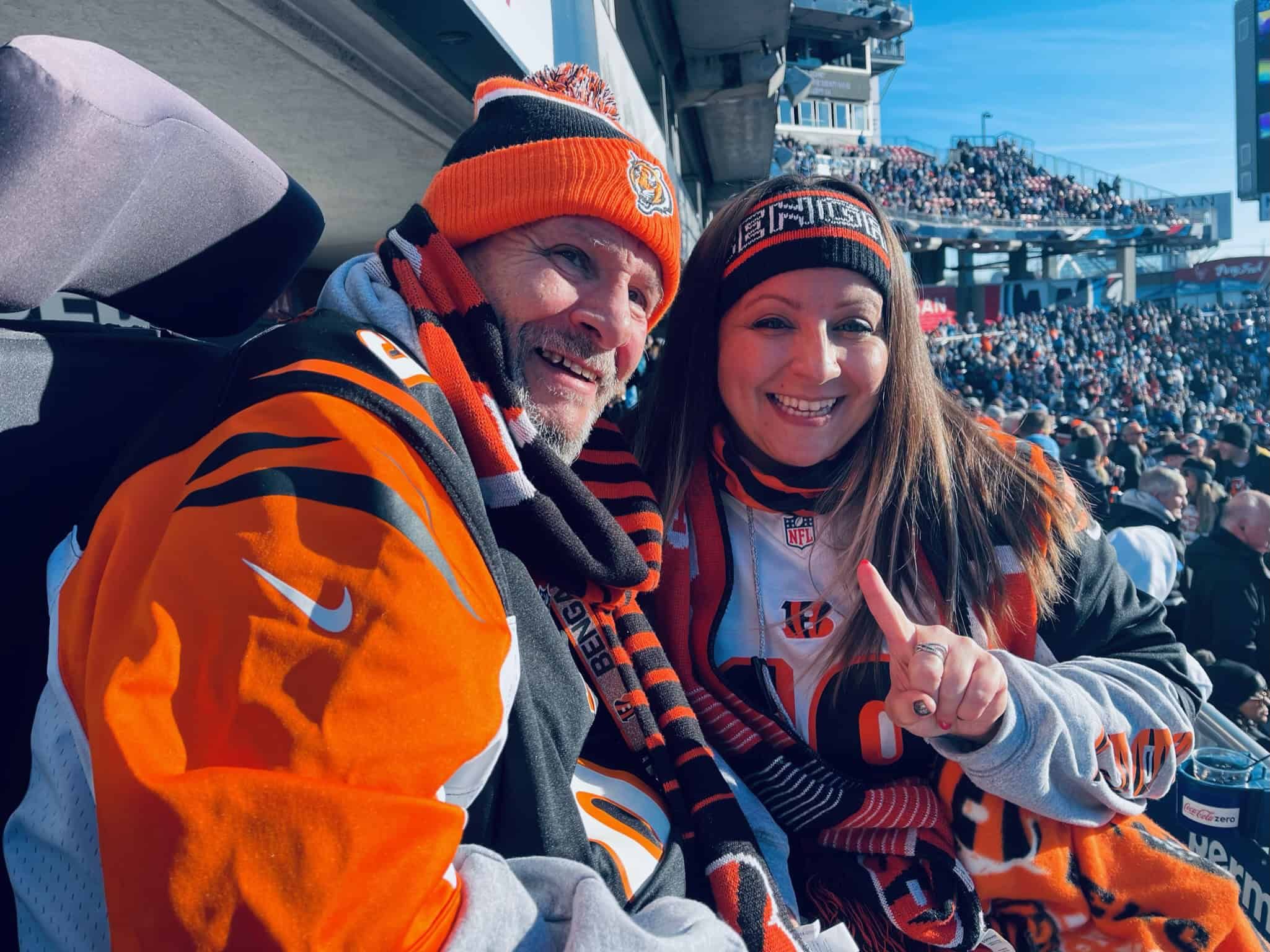 The season continues
Sarah's aunt paid for their tickets to the first playoff game, at home against the Las Vegas Raiders. The Bengals won, 26-17. Afterward, Sarah sent photos of herself and Paul at the game to a local news station, which led to an interview with a reporter who suggested Sarah create a GoFundMe campaign to help them reach the next playoff game in Tennessee.
A week later, Sarah and Paul arrived in Nashville to see the Bengals beat the Titans, 19-16. The winning score wasn't the only number that shocked them: Before they arrived in Nashville, almost $5,000 in donations had been raised through Sarah's campaign.
The final playoff game would be in Kansas City. This trip, however, would require more money to ensure Paul had the necessary accommodations at the hotel and stadium. But just as the Bengals continued to accomplish the unlikely, Sarah believed the same would happen for her and Paul.
One more game day
Paul's wife, Barbara, drove the nine hours to Kansas City. In the backseat, Sarah promoted their GoFundMe page, posting updates on social media of their playoff journey.
"I barely looked up to see what state we were passing through," says Sarah. Donors came through again, contributing more than $5,000.
Sarah's social-media savviness had not only provided others the opportunity to give, but had also made Paul's name more than a local news story. As Sarah and Paul got out of the van at Arrowhead Stadium, "two Kansas City fans knew exactly who we were," says Sarah.
Later, watching the orange-and-black celebrations below after the Bengals defeated the Chiefs and secured their Super Bowl invitation, Sarah had one thought: I have to make this happen. If the Bengals were going to Los Angeles, they were, too.
But the price of Super Bowl tickets alone is out of reach for most people. With the additional costs of a flight, handicap-accessible hotel room and van, a lift device, and shuttle service, the Miracles would need more money than what they had previously raised combined.
They needed a miracle.
ALS can't stop Pop Pop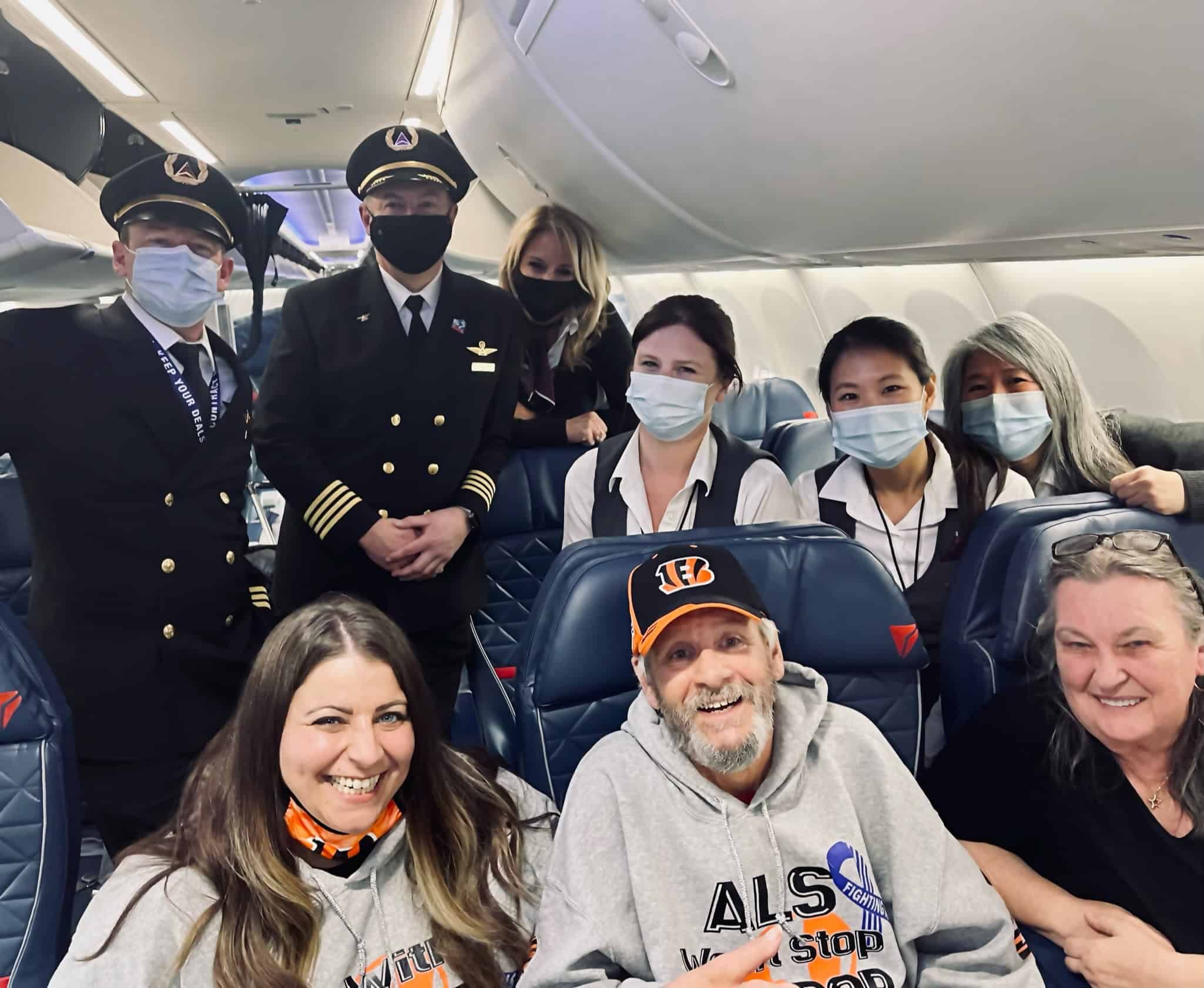 Paul, Barbara, and Sarah returned to Ohio. Sarah's two-year-old son, Zayde, was especially happy to see his mother and Paul, whom he calls "Pop Pop."
Sarah created another GoFundMe, "ALS Can't Stop Pop Pop," knowing it was a Hail Mary pass. Shortly after posting the campaign, her phone clamored for attention. Checking it, she saw an anonymous $9,000 donation.
She called Paul.
In all, donors gave more than $30,000 to "ALS Can't Stop Pop Pop," including Delta Air Lines' donation of first-class tickets to L.A.
The Tuesday before the Super Bowl, Sarah and Paul bought their game tickets.
Super Bowl bound
At SoFi Stadium in L.A., Paul was as famous as any starting quarterback. Requests for photos came from every stripe of fan. Charming them with his humor, Paul turned anyone wearing Los Angeles Rams gear into friends—and Miracle fans.
As kickoff approached, Sarah and Paul found the wheelchair-accessible seating, joining the loudest crowd on the planet that day. And together, they watched their Bengals play—for the first time in 33 years—in the Super Bowl.
Later, when the Bengals' loss appeared inevitable, Sarah turned to Paul, taking in as much of the moment as she could. "He had a little bit of disappointment in his eyes. But I looked at him and said, 'We are here.'"
For Sarah and Paul, these games were more than wins and losses. They were a respite, granting them brief yet precious moments to return to a life before ALS.
"It's like he forgets about everything because he loves the Bengals," says Sarah. "It takes him away from his nightmare."
And anyone looking at Sarah and Paul that evening, surrounded by the spectacle of the stadium, wouldn't have seen the weeks of local news stories, the miles traveled, and the wildly successful GoFundMe pages.
They would have seen a father with his daughter, covered in Bengals gear, making a memory, watching football.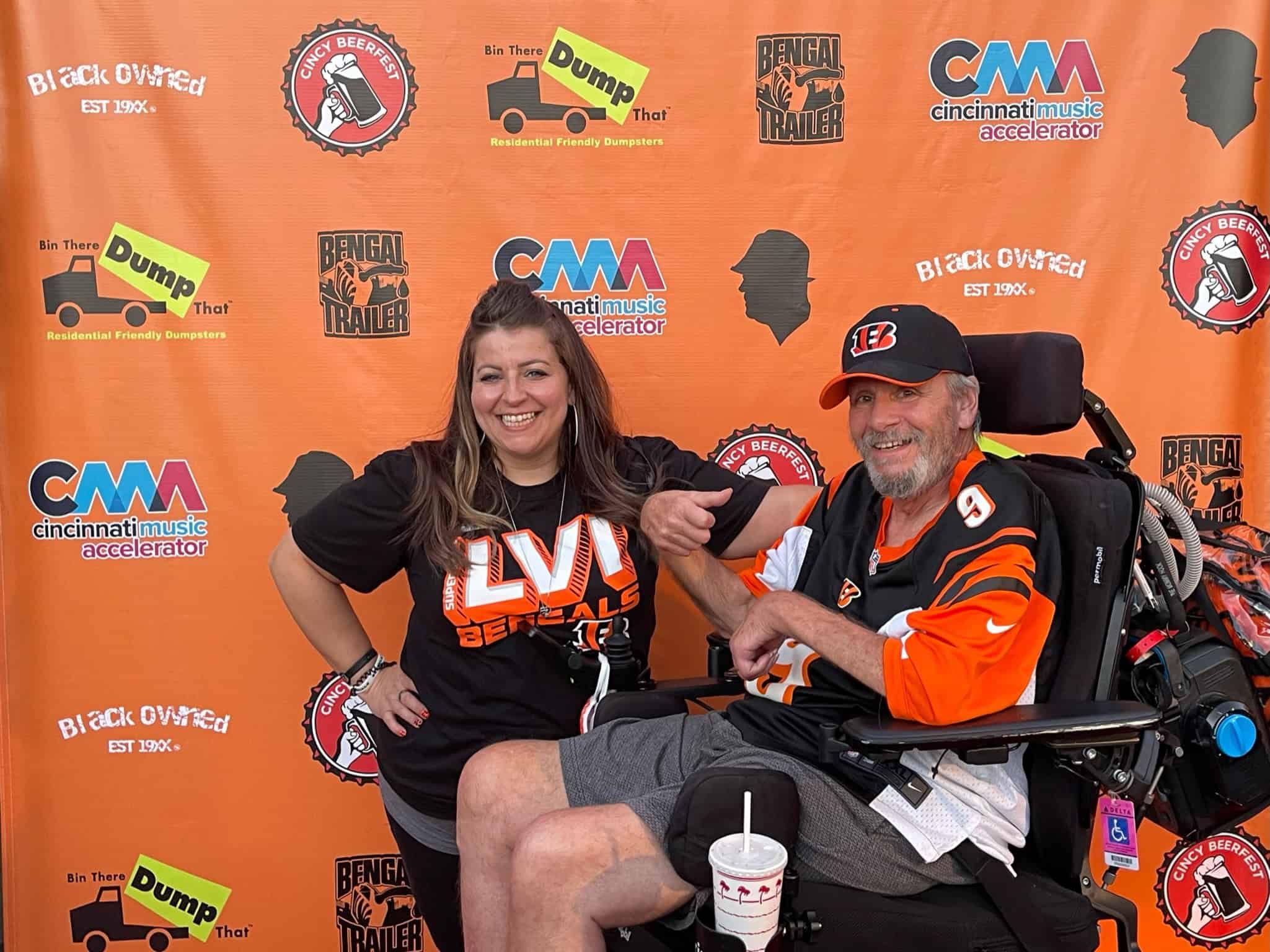 Treasuring Sundays
Once home, Sarah and Paul donated the remaining $10,000 from their fundraising to the ALS Association of Central and Southern Ohio. They also help organize Chef Paul Miracle's Food Truck Rally, an annual fundraising event friends created in Paul's honor to benefit ALS research. Their playoff journey was made possible by others' generosity, and the Miracles want to do the same for other families facing ALS—to help them have more Sundays.
"Money is what it takes to pay people to research and develop treatment," says Sarah. "I just wish we had more time."
Meanwhile, the Miracles treasure every Sunday—and every day—they have together. Despite their being on a journey neither of them wanted, they know what it means to make the most of this short miracle called life.
Bengals Partnership
We're working with the Bengals to elevate the health of the the community—mind, body, and spirit.
Learn More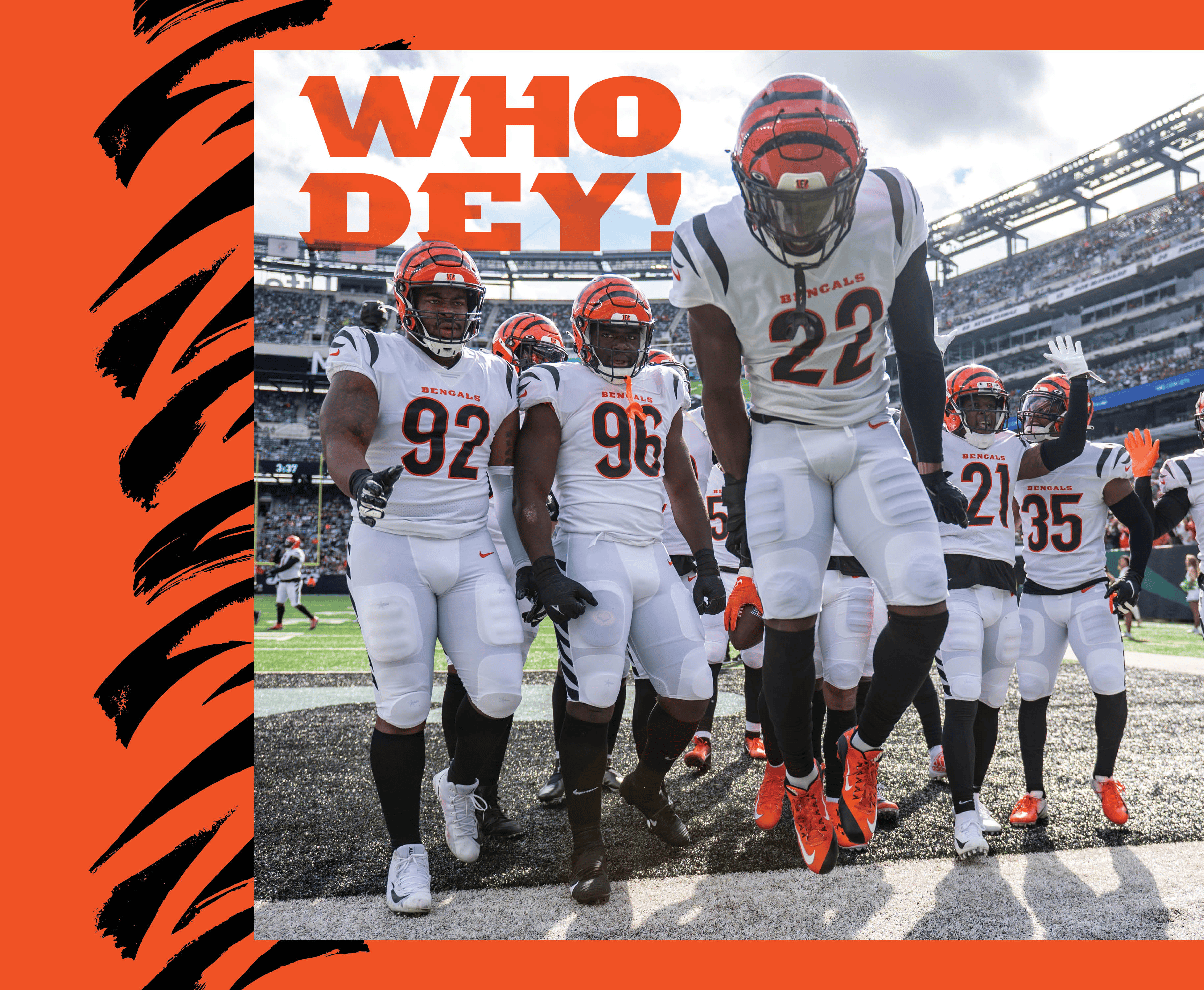 The month's most popular health news, stories, and tips in your inbox.
Sign Up