A magazine sits on the counter, yellowed and crinkled with age.
The cover features three tiers of cake, luxuriously piped in pearl-colored icing, and each tier adorned with pink, delicate roses. Above the cake, big beige letters spell out Bon Appétit with "June 1989" just below them.
This is the cake Cheryl Shimmin modeled her wedding cake after.
But the cake itself—its substance and taste—she fashioned after a less likely source: the carrot cake sold across Kettering Health's cafés and bakeries.
Carrot cake since day one
"I had the carrot cake at my wedding," said Cheryl.  "I went to a baker and said, 'If you take this recipe, will you make it?'"
The recently retired executive director of Culinary Services at Kettering Health says the cake has been with her every step of her career.
She was introduced to it in the early 1980s on her first day at Kettering Health Main Campus. Even then, a more humble version of the dessert was standard in the cafeteria. "It was one of the primary desserts when I started, so it's been a top seller for at least that long."
At that same time, she walked into a very different food landscape.
Founded on the patient-centered values of Seventh-day Adventism, Kettering Health has always provided healthy food options, including meat alternatives. Then, those meat alternatives weren't particularly popular.
In the meat-and-potatoes world of the Midwest in the '80s, Cheryl had her hardest work ahead of her.
Pushing forward
She won the trust of her leadership and hired an executive chef and a pastry chef. This wasn't the norm for hospitals, and it meant that they could push the boundaries with new concepts. Carrot cake was a key player.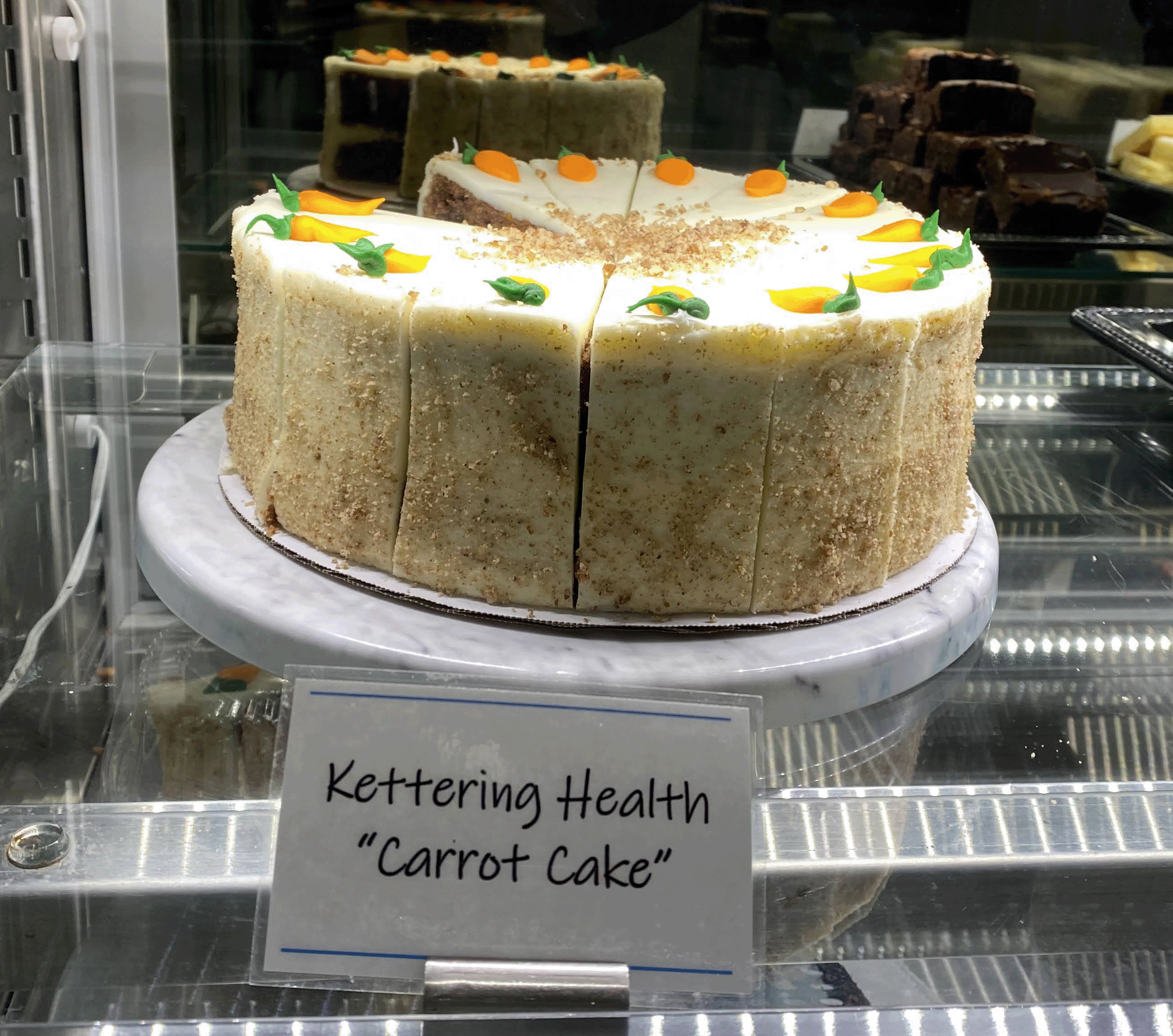 When Kettering Health Main Campus opened Atrium Grille, a Panera-style concept in 2004, the carrot cake was front and center.
Over the years, Cheryl's team took the army-style mass-produced sheet cake and emphasized presentation. It became the double-layer carrot cake served today.
The point remains the same in completely new concepts. "Even now, we knew we wanted to make the carrot cake a focal point," said Cheryl. "When you visit new concepts, you'll see its location in the display case is very intentional."
"We capitalized on the new elevated presentation of our carrot cake to sell an image," said Cheryl. "Competing with hospital food wasn't our goal. We wanted to be a place people came to eat."
The best (carrot cake) in town
From food events such as The Taste (of Kettering) to Taste of Greene County, and beyond, Kettering Health chefs have been honored for their carrot cake and much more.
"We'd go out to the Taste of Kettering under the guise of Atrium Grille or Fresco, and people would ask, 'Where are you located?' shared Cheryl. "It was always inspirational to me say, 'We're part of the hospital food service team.'"
And it all started—and continues—with the carrot cake. Visit a Facebook Group like Dayton Foodies—a group 20,000 strong with stronger opinions—and ask where the best carrot cake is.
You'll see comments like these:
"Here it is folks, the famous carrot cake making hospital stays bearable. There are no words to describe how delish this cake is!"
"Would you believe I faked a total knee replacement, in fact my second one, just to be able to eat a piece of carrot cake at one of Kettering Health's hospitals? Beyond yummy!"
"Y'all. I've seen many a post about the carrot cake from Kettering Health Main Campus and let me tell you…this stuff is HEAVENLY! Definitely making my stay more enjoyable. Does anyone know how to order some to go!?"
"Came here for some carrot cake and figured we might as well have a baby too."
But what about the cake makes it that good?
"I think it's three things: the balance of spices, the moisture, and the cream cheese icing," said Cheryl. "And it's not just any standard cream cheese icing. Some of the products we use are part of the flavor profile."
Calling it a career
Today you can find the famed cake at eight bakeries across Kettering Health, but you won't find Cheryl.
Cheryl retired in June 2022 after 38 years. In May, she was honored by International Foodservice Manufacturers Association (IFMA) as the Silver Plate award winner in healthcare.
According to Cheryl, food is the foundation for relationships. The carrot cake was at the foundation of her career that blossomed with notoriety as a leader and mentor in hospitality.
"I wanted to change our image to being the best in food service, not just in healthcare, but as place you just come to eat," said Cheryl. "I'd have to say I think carrot cake helped me do it."
The month's most popular health news, stories, and tips in your inbox.
Sign Up