Kettering Health wants you to take control of your breast health — today and every day.
Breast health is a huge part of a woman's overall health since 1 in 8 women will develop breast cancer in their lifetime. At Kettering Health, we're empowering women of all ages with lifesaving information and advanced care options. From guidance on self-exams and prevention to low-stress mammography, we have everything you need to power up and make breast health a priority year round! Get started today!
We Provide the Best in Breast Health
We are here to empower you to take control and protect your breast health.
A focus on relaxation

A relaxed body means a clearer mammogram. Choose from a beach, garden, or waterfall scene, and we'll engage your senses. We utilize imagery, sounds, and aromatherapy to help you relax.

Convenient locations

Our 15 breast centers mean the latest services like 3D mammography, diagnostic imaging, and biopsy are all nearby. For your convenience, evening and Saturday appointments are also available.

View locations

The information you need

We can give you a breast density report to help you better understand why more screenings may be necessary. Our cancer risk assessment explores your family history and helps uncover your genetic risk for cancer.

Learn more
Mammography Frequently Asked Questions
Kettering Health has added the most advanced breast imaging services to offer the best care to meet the needs of the community. We are the first in the region to offer Pristina 3D mammography, which provides a new interactive, patient-centered experience. Pristina's SensorySuite uses sight and sound to reduce the fear and anxiety around getting a mammogram. In addition, we are providing information and resources to make sure every woman can get this important health screening.
When should I get my mammogram?
All women age 40 and over should have a screening mammogram every year. There are some situations where you may need to begin mammograms earlier, such as if you feel a lump or if you have a family history of breast cancer. Please talk to your doctor regarding your personal risk.
How do I schedule my mammogram?
If you have a doctor, call 1-800-373-2160 or click here to schedule your mammogram. Call (937) 558-3715 to schedule your mammogram if you don't have a doctor. We can connect you with a provider and give you information on how to schedule an appointment if needed.
How much does a mammogram cost?
Medicare, Medicaid, and most commercial insurances cover a yearly screening mammogram at 100%. If you have questions about your coverage, please contact your insurance provider. If you are uninsured or underinsured, there are funds available to help you get a mammogram. Call (937) 558-3715 for more information.
How do I find out my results?
Your results will be available in MyChart, or you will receive a letter in the mail. Depending on your results, you may also be contacted by phone. Your doctor will also receive a copy of your results.
Please note: You do not need a doctor's order to schedule a screening mammogram, however you must provide the name of your doctor so we can send them your results.
Crucial Catch
Kettering Health is teaming up with The Cincinnati Bengals to fight cancer in its earliest stages. Crucial Catch's mission is to fight cancer and provide individuals with the tools to help them understand early detection and ways to reduce their cancer risk. For almost a decade, the NFL and American Cancer Society have partnered to support the fight against cancer. The Cincinnati Bengals and Kettering Health are committed to providing fans the means they need to reduce their cancer risk, which can impact anyone at any age.
Learn more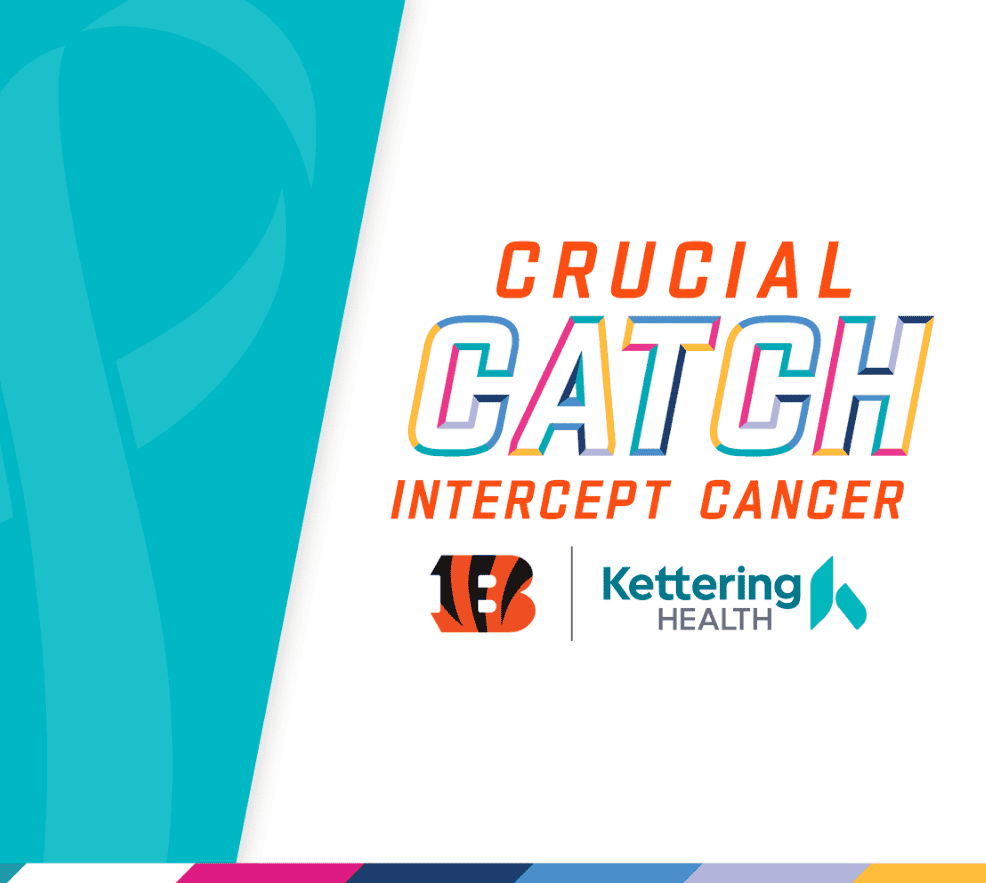 The ladies at KBEC Lincoln Park are the best.  I became ill during my appt and they were very kind and helpful.  Special thanks to Paula, the technician, who helped me through.  Every time I have been there the technicians have been caring and are committed to patient comfort as much as possible. They have earned the 5 stars!  Thank you!

– Sherree Etter
I've been going here for years and have always been pleased with their knowledge.

– Darlene Murray
The mammogram department is just wonderful. Very kind people and very relaxing atmosphere.

– Rhonda Brewer
Soin Breast Evaluation Center is amazing for mammograms!! Everyone was friendly. They got me in and out quickly. They go the extra mile to make you feel comfortable, including a heated pink gown. The techs are personable and communicative. Highly recommend!

– Nicole Lewe
Encourage a Loved One to Get a Mammogram
Encourage a loved one to get a mammogram! We will send them a message on your behalf along with a link to schedule their mammogram.