In May 2022, Kettering Health was selected for a 10-year partnership with the Cincinnati Bengals. In just six short months, the value of the partnership has been substantial–and it's just the beginning.
Kettering Health entered a partnership of this scale for one primary reason: to further its mission of improving the community through healthcare and education. As the official healthcare provider of the Bengals, Kettering Health has been able to significantly expand its reach, guiding people from Dayton to Cincinnati to healthier lives.
"Our partnership with the Bengals allows us to bring our care to people in the community who may not have otherwise interacted with Kettering Health," said Cole Taylor, senior specialist, Sports and Community Sponsorships at Kettering Health.
It's imperative for a partnership of this magnitude to be a natural fit. While there are about 50 miles between the Bengals' key market and Dayton, the alignment of purpose, goals, and values knows no distance. As an organization wholly committed to its mission, people, and the health of those in its communities, Kettering Health expects the same from those it works with–making the Bengals a perfect match.
"The overlap of football and sports and health and wellness is our core competency, so we do all we can to support that," said Alex Simons, director of Community Engagement for the Bengals. "Our partnership with Kettering Health helps us achieve that in a lot of unique ways. It draws attention to the importance of maintaining a healthy lifestyle–and football is a fun and impactful way for people to do that."
As part of the partnership with the Bengals, Kettering Health works with Playbook for Health, an organization focused on maintaining meaningful partnerships between professional sports teams and healthcare organizations–leading to greater impact for both.
Mike LaPorta, Playbook for Health president, has supported dozens of partnerships with sports teams and healthcare organizations, but he's never seen one quite like this. "We've always focused on how we can move the agreement from a sponsorship to a partnership, and a lot of times it takes a couple years before both organizations begin working collaboratively toward one shared goal," he explained. "For Kettering Health and the Bengals, it has been a partnership since day one."
The lives of the people in the community are constantly evolving–needs, wants, and values transform throughout one's life. But an aspect that may never shift is a person's support for a sports team.
According to insights gleaned by Playbook for Health, fans are 2.5 times more likely to trust the healthcare partner of their favorite sports team. Even non-fans who recognize that the team partners with that healthcare organization are more likely to trust it.
Kettering Health's partnership has saturated the Dayton and Cincinnati communities through several events, initiatives, and programs.
Clothing donation for sexual assault victims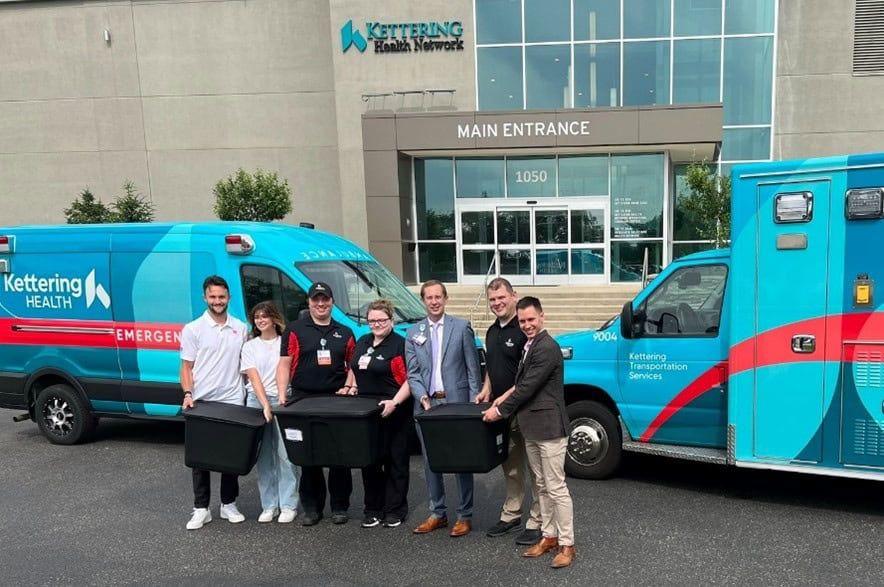 In June, Bengals wide receiver at the time, Jack Sorenson, donated over 800 articles of clothing for patients who have been sexually assaulted. The donations help victims whose clothing is taken as evidence during Sexual Assault Nurse Examiner (SANE) exams. Kettering Health provides the donated clothing items to victims in emergency departments across its system.
Sorenson contributed bras, underwear, socks, sweatshirts, and pants through his nonprofit, The Passion Projects.
Flag In-school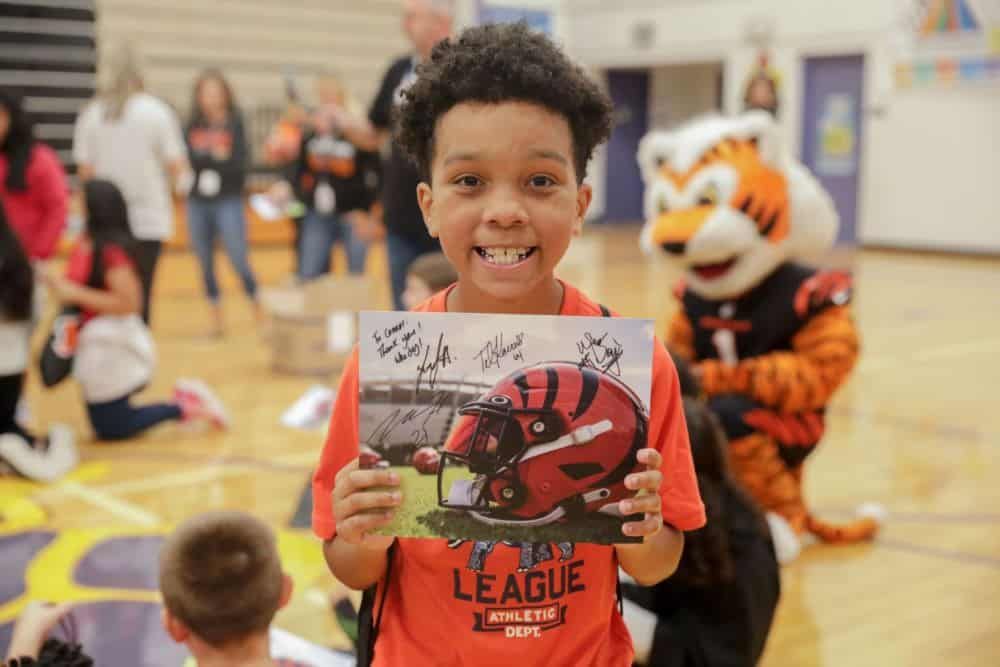 Kettering Health works alongside the Bengals to help build a foundation of healthy, lifelong physical activity for local students through the Flag In-school program.
By the end of the 2022-23 school year, Kettering Health and the Bengals will have donated flag football kits to 50 new schools across Bengals nation. Each kit includes a 10-week flag football curriculum, flag belts, footballs, and pinnies.
"Though the program has been around since 2014, having Kettering Health as a partner has really given us the resources to amplify it," said Simons. "I'm looking forward to growing and expanding the program–adding more schools, visiting more students onsite, and exposing more kids to the game."
In May, the Bengals 2022 rookie class visited Whitaker Elementary School to hand out Kettering Health-donated flag football kits and lead the students through drills. In September, while John G. Carlisle Elementary fifth-grade students participated in skill and drill stations in their gym class, Bengals' Mike Hilton and Ted Karras made a surprise visit to talk about football and provide them with their kits.
Crucial Catch
One of the ongoing initiatives of the partnership is to intercept cancer in its earliest stages by creating awareness through the NFL's Crucial Catch program. Crucial Catch is a year-round initiative to provide individuals with the tools they need to better understand early detection and ways to reduce their cancer risk.
In October alone, the impact on the community was immense.
Supporting the cancer community: Players shared who they celebrate with Bengals nation on social media with "I Celebrate" signs.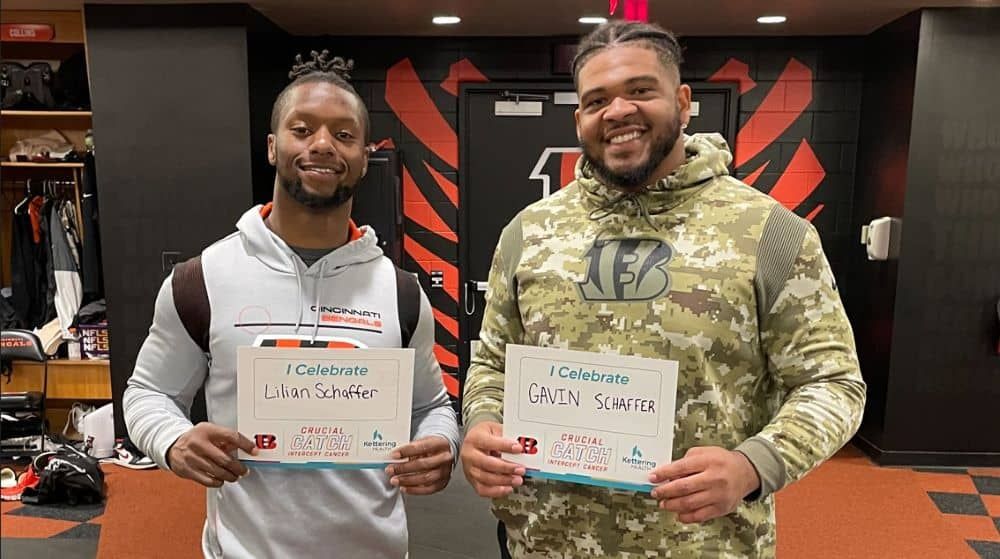 Private practice: The Bengals invited Kettering Health-treated cancer survivors to a private practice where they had the chance to celebrate their journey and meet players.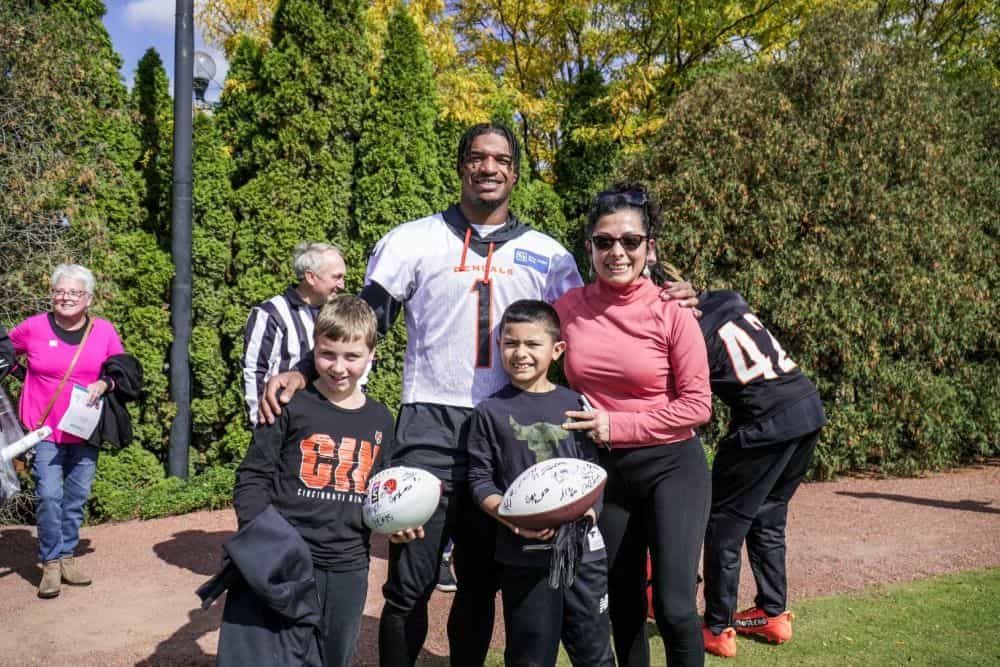 Bengals' Crucial Catch game: At the October 23 game, Kettering Health played a significant role in the day's events, from passing out 10,000 "I Celebrate" signs to employees delivering the game ball and singing the national anthem,and a bell-ringing halftime ceremony honoring cancer survivors. On the day of the Crucial Catch game, Kettering Health and the Bengals combined reached over 1.5 million people on social media with the message of the importance of early detection and cancer screening.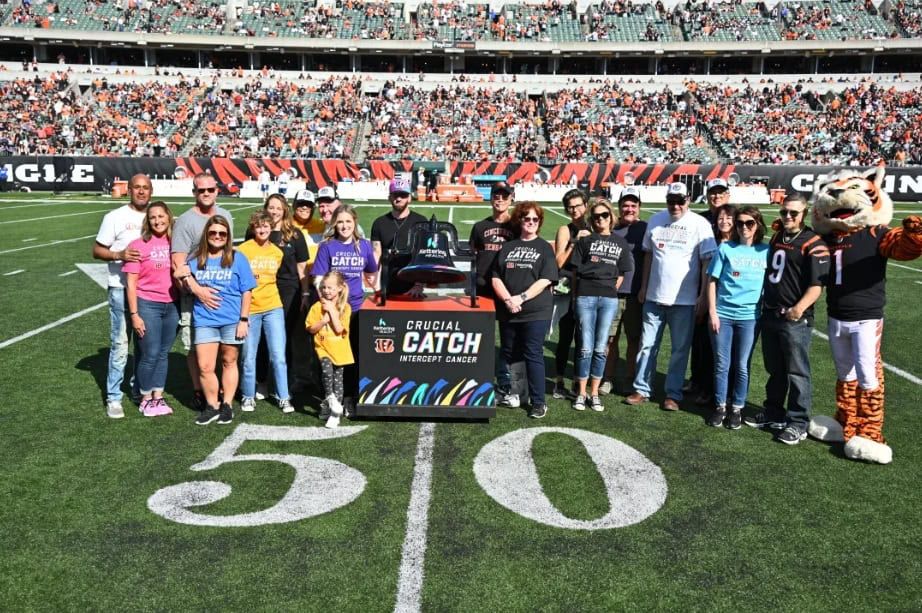 Most importantly, Kettering Health and the Bengals were able to encourage more breast cancer screenings: In the month of October, the number of mammograms scheduled online doubled.
While a large focus of this initiative was Breast Cancer Awareness Month and the Bengals' Crucial Catch game in October, the work does not end there. Kettering Health has maximized the NFL's Crucial Catch platform to create year-round awareness for cancers with screening tests for breast, cervical, colorectal (colon), and lung cancers.
"One of the things I love about how we've come together on this initiative is that it's not just about breast cancer," shared Simons. "It's about all cancers. It's reminding people to pay attention to their bodies 365 days a year and take the time to get the screenings and care they need to stay healthy."
Paycor Stadium first aid
A major component of the partnership is delivering care to fans at Paycor Stadium for all Bengals home games, training camp, and other major events like concerts. Kettering Health has five first-aid stations staffed by its Event Medicine team, who, by the end of the season, will have supported ten home games and 26 events with over 728 Kettering Health staff members.
Kettering Health holds itself to the highest standards of excellence, and as a result, the Event Medicine team reinvented the approach to care at the stadium to ensure any fan in need can receive advanced care at a moment's notice–despite the nearly 1.8-million-square-feet spanned by the stadium and the 67,000+ people in attendance.
Bengals Legends event
In September, more than a dozen former Bengals players visited Kettering Health Cancer Center to assemble over 800 care packages, sign banners, and share video messages of encouragement–all for patients and employees of Kettering Health's cancer centers.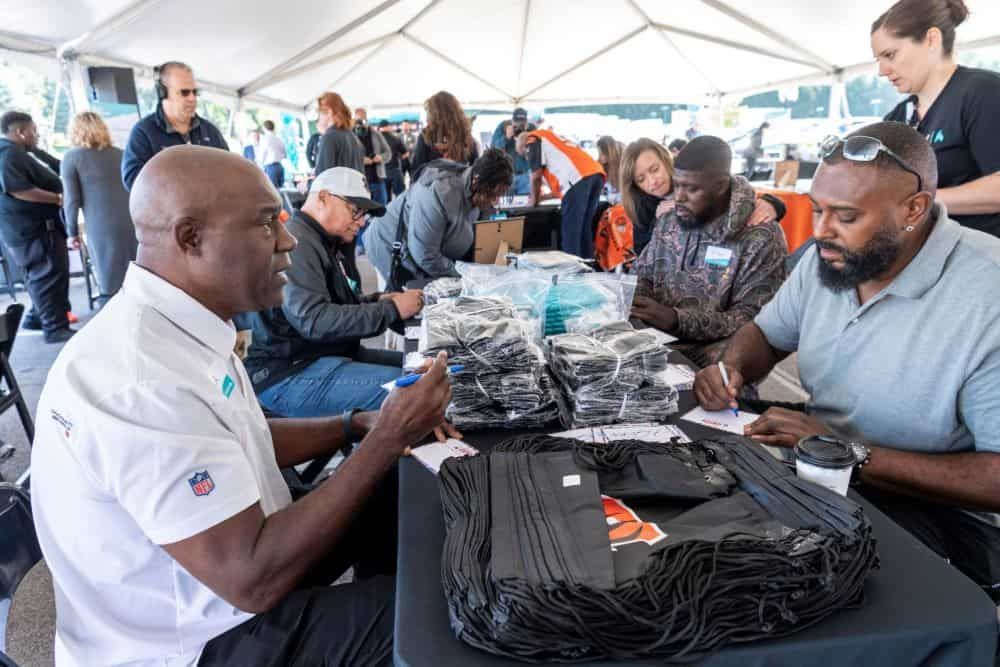 Watch Bengals legends show their encouragement and support for staff of our cancer centers below.
Providing care for retired Bengals players
In addition to the partnership, Kettering Health has been selected as the Bengals' partner of choice and participating healthcare system for the NFL Dedicated Hospital Network Program in southwest Ohio. Through this partnership, eligible retired players will be able to access the high-quality preventative, orthopedic, and primary care services available at Kettering Health.
2023 and beyond
What's most exciting about the partnership with the Bengals is the future. Kettering Health has nine and a half more years to make an even greater impact on the lives of those in its community.
Here are some opportunities Kettering Health is looking forward to for next year and beyond:
Expanding the Flag In-school program more broadly in the Dayton community
Partnering with players on their philanthropic efforts
"I'm really excited about pursuing opportunities and causes that our players are particularly passionate about that Kettering Health can help provide services or resources toward," shared Simons. "I am confident there are opportunities on the horizon for next year for Kettering Health to support our player's and their community work."
Conducting a large-scale CPR training event at Paycor Stadium for local high school students.
"Both organizations had the right people at the table from the beginning who saw the bigger vision of this partnership beyond a traditional sponsor inside the stadium," LaPorta reflected. "There was not only values alignment between the organizations, but there was also recognition that we can double the reach of our mission geographically by partnering together."
Kettering Health looks forward to doing exactly that for the next nine and a half years.
The month's most popular health news, stories, and tips in your inbox.
Sign Up
Topics