Cancer Care
Want to learn more about this at Kettering Health?
Learn More
"I know you don't want to hear this, but if it comes back positive, I'm not going to fight this."
Melissa Lewis—24 years old—uttered the words a mother never wants to hear: that her child is giving up. Before she knew she had it, Melissa gave in to cancer.
In her head, nothing mattered, so it was easy to let cancer win. She saw her loved ones swim through life, finding life's purpose, while she was wading through concrete as she watched.
Her sister was a doctor, her brother was becoming a firefighter, and her other brother was a marine. She felt her calling in life was to attend vet school, but her three applications had just led to three rejection letters.
She watched her friends and sister get married and have babies, when, behind the scenes, she still hoped to meet someone special. While Melissa couldn't be happier for her family and friends, she felt stuck.
"I felt like a failure, if I'm being completely honest, because nothing was working out the way I wanted," said Melissa said.
As Melissa watched the lives of her friends and family come together, hers fell apart. And now, she faced the possibility of cancer.
She found it stretching, rubbing her muscles—the smallest of lumps near her armpit. Surely, she didn't need to worry about it. Her mother and sister, both in the medical field, didn't think she had cause for concern. Her OB-GYN checked it and didn't think so either because it felt like a cyst.
But her phone rang. And Dr. Cathy Leisner asked Melissa to come back into the office. Melissa knew the "just-in-case" tests now served as more than a precaution.
Squaring up to cancer
"You have breast cancer."
And all of Melissa's fears sank in.
"Everything changes in that moment. In that second. I felt like my whole world was flipped upside down," Melissa said.
When Melissa arrived home, she fell to the floor. As she felt her mom wrap her arms around her, Melissa contemplated the question she had already been asking: Why?
"Breast cancer didn't run in my family at all. So, I was thinking: What did I do wrong? Why is this happening?"
Melissa looked cancer in the face and decided she would find out.
"I said, 'I'm going to fight this because I'm not ready to leave this life.' My mom held me and said, 'We're going to get through this together. I'll be with you every step of the way.' And she was," Melissa said.
The same day Melissa decided to start the fight against cancer, she started another monumental battle: the fight for purpose.
Getting through it
From the beginning of Melissa's cancer journey, Melissa's mom made her a promise.
"She never once told me that it was going to be OK. She always told me we were going to get through it, "said Melissa. "I think sometimes when you go through cancer, people don't always realize that you don't know what's going to happen. There's just so much uncertainty with cancer."
With newfound motivation, Melissa moved forward with treatment—a lumpectomy, eight chemotherapy sessions, 32 radiation treatments, and hormone therapy. Though her care plan was clear, every day held some notion of pain, change, and uncertainty. But her mom remained a constant. As she approached her sixth chemotherapy session, Melissa felt defeated.
"I didn't want to go. I said, 'I can't do this anymore," Melissa recalls. "I'm tired of being sick and sick of being tired, and I just want it over, and I'm not going today.'"
Her mom responded, "Yes you are. Get in the car. We're almost done."
And that's what Melissa did. She cried throughout her six-hour treatment, but her mom held firm on her promise: they got through it.
As she continued with treatment, Melissa found ways to cope. "The important thing was to try to find the joy in the darkness."
No "why" in cancer
Taking it one day at a time, Melissa made it through treatment. But her questions lingered.
"I was searching for the why. Why did this happen to me?" Melissa said. She spoke with her surgical oncologist, Dr. Roxanne Weighall, who shared her hypothesis on how hormonal changes may have contributed to Melissa's developing cancer.
"That was what I had to accept was happening because there is no 'why' for cancer. You try to hold on to that 'why' because you don't understand, so it helped to hear that this was likely the case."
Even so, the physiological answer didn't seem to satisfy her personal, philosophical question.
To help distract her, Melissa's friend Michelle became the concert buddy Melissa needed, taking her to country concerts and making sure she had fun. "I had not only a good support system from my family but also my friends as well."
But to distract herself from pondering the unanswerable "why?", Melissa found something new to do.
Jumping in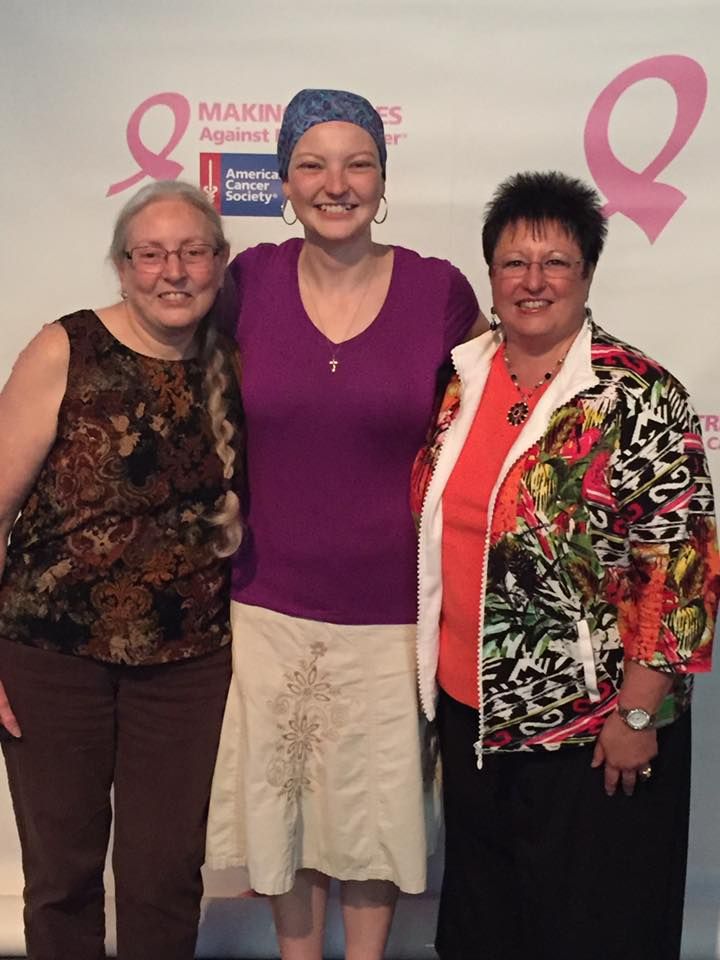 With shaky hands and a pounding heart, Melissa addressed the audience. The Making Strides kickoff breakfast, an annual event that raises funds for the American Cancer Society, served as Melissa's first speaking engagement.
Melissa never pictured herself standing in front of a crowd, but in public speaking, she found more than a distraction. Melissa found her purpose.
"I started looking at it as here's the 'why,'" she said. "Maybe I'm supposed to help encourage the next female to go through this to remain strong and keep fighting no matter how hard it is."
From speaking engagements to radio features, new opportunities allowed Melissa to pursue her goal.
"It took my mind off of the 'why,' and I focused on how this is where my purpose is now," said Melissa. "My purpose is to help encourage these women who might be going through the same struggles."
"Here we go again"
Melissa spent the next few Octobers advocating for breast cancer patients. Her search for purpose satisfied, the curtain on her cancer journey was closing. But she received news that pulled it back open.
Four years later after her initial diagnosis, at just 28 years old, Melissa had to fight breast cancer for a second time.
The same type of tumor reappeared in the same spot, and a little larger than before. And Melissa was back at square one, but this time she reacted differently.
"I was actually OK," Melissa said. "These are the cards I was dealt. I don't want to say I was fine with it, but I just thought, 'Here we go again.' I did it once, I can do it again."
If the physical and emotional work Melissa did during her first diagnosis were the study guide, this second diagnosis was the test. This time, though, Melissa's treatment options were limited. She would have to get a mastectomy.
"It wasn't until the mastectomy that my mindset changed," Melissa said. "It was the most painful thing I've ever had to endure."
Getting through it—again
Melissa's pain wasn't merely physical. Her emotional pain was just as debilitating.
The isolation that came with recovering from surgery—and cancer—during a global pandemic took a toll on Melissa. But she relied on her mom during those weeks of recovery when she lost most of her independence.
"Once again, it's important for your support system to be there," Melissa said. "I couldn't have gotten through it without the nursing staff and doctors. Everyone was truly amazing."
With a team of clinicians caring for her and family and friends to offer emotional support, Melissa's defeat didn't last. As she recovered, she became further convinced of her mission to help other women.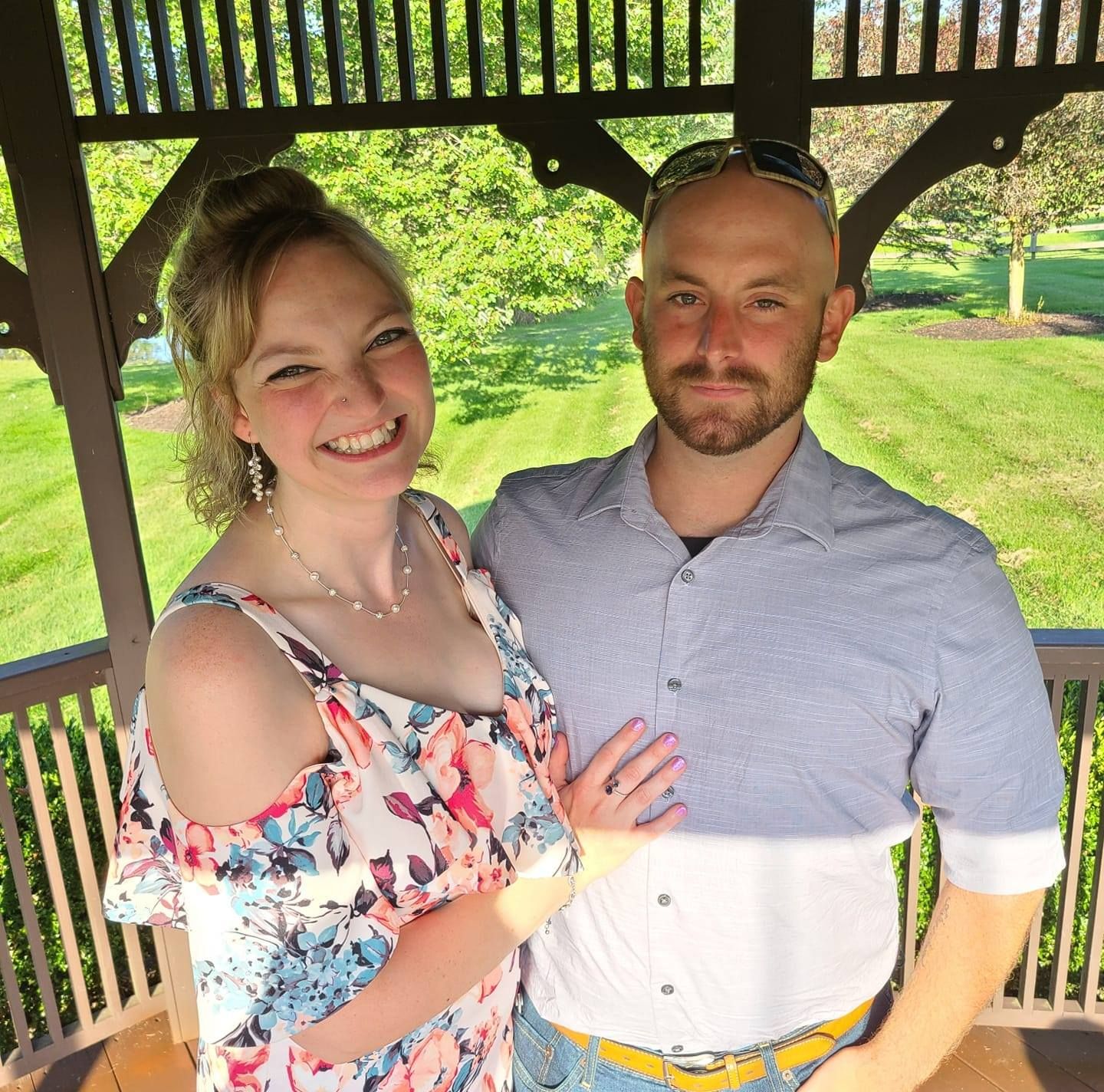 Persist with purpose
Now, that day Melissa told her mom she was unprepared to fight cancer is a distant memory to Melissa, and she's inspired by the road ahead.
"Since my second diagnosis, I have actually decided to write a book. If this is my purpose, I want to share it with other people to help them."
Though the book is still a work in progress, Melissa's message is solidified:
I hope it provides women with encouragement and strength, the will to go on, because something good is going to come out of it. It doesn't make sense at the moment, but I do feel like there's a reason for everything, so I'm hoping no matter how hard it gets, my story can help the next person who needs to go through it. You just have to fight to find your purpose. That is my answer to the "why."
The month's most popular health news, stories, and tips in your inbox.
Sign Up