Cancer Care
Want to learn more about this at Kettering Health?
Learn More
Popular records flow from a sound system between the musical medley of Tom Beery's five-man doo-wop group. The evening was designed for fun, with its lively crowds gathered there by word-of-mouth alone. When they weren't singing, Tom and the gang handed out "hokey prizes" to attendees—fuzzy dice, white socks, and Cracker Jacks. The sock hop was underway.
For 15 years, the festivities continued. The Dayton-based group traveled everywhere from Charlottesville, Virginia, to Seattle, Washington, sometimes doing two or three gigs in one weekend. In the excitement of it all, Tom was comfortable. He'd sung from age four through his adolescent years and college days. Even after the doo-whop group disbanded in 1993, Tom and his wife, Michelle, considered Tuesday nights at rehearsal for the Dayton Philharmonic Chorus and Chamber Choir their date night.
Singing is a passion for Tom. It's second nature. It's familiar. As routine as a colonoscopy.
A physician's intuition
Tom's physician, Dr. Robert Gaylor, reviewed his medication before the colonoscopy, inquiring about the high dose of acid reflux medication. Tom always struggled with acid reflux. And before these drugs were on the market, he recalled, "Rolaids were candy." But Dr. Gaylor decided an endoscopy was in order—just to be safe.
About a week later, Dr. Gaylor called him: he had esophageal cancer.
"We had no clue this was festering within me," Tom said. "So it was by his inquisitiveness that he found this."
Tom was told they found the cancer early—stage 1A. He knew he had to stay positive. But he also wanted to be strong for Michelle, so he turned to her and said with resolve, "I got this."
A heavy update and a lot of hope
Dr. Peter Pavlina, a thoracic surgeon, would remove the cancer from Tom's esophagus. Among Tom's fears was the unthinkable idea of losing his life's passion: singing.
"I told him, 'I know the esophagus and the windpipe are two different things. But they're close to each other, so just be a little careful around the vocal cords,'" Tom said. Dr. Pavlina reassured him that, of course, he would.
At Kettering Health Main Campus, Tom's surgery started at 7:30 a.m. The procedure was projected to last four hours. Michelle waited. By 1 p.m., she was worried. She asked for an update. Tom's condition was worse than they thought, and Dr. Pavlina canceled the rest of his surgeries for the day.
"That's not what you want to hear," Michelle said. "I will not lie. I was freaking out."
Dr. Pavlina finished the surgery at 5 p.m. He walked out to Michelle with a heavy update and a lot of hope. Tom's cancer was stage 4. Dr. Pavlina had to remove 80% of Tom's esophagus to get all the cancer. But he did it.
"Dr. Pavlina is amazing, and he was like a coach that just won a football game," Michelle said. "He was very optimistic. He said, 'The cancer is all gone.'"
The day that Tom sang
Tom's recovery from surgery felt slow. For five days, he was not allowed even a sip of water. He relied on IV fluids and a feeding tube for sustenance. His stomach now sat vertically to reach the remaining 20% of his esophagus.
Tom was out of it for the first few days after surgery. Nursing staff came in every hour to care for him, but Michelle didn't leave his side. She even began working from Tom's hospital room. Michelle set up shop at a small table by his bed, and an environmental services employee helped make it feel like a true office space.
"She bought me a little plant to put on my table, and she made motivational signs and taped them to the wall. She was so sweet—it was really kind," Michelle said. "And so I worked there every day. And my days were just spent with him."
After the fifth day, the TV was on in Tom's hospital room. Neither he nor Michelle remember what was showing, but they remember the effect it had: he sang.
"His voice was just like it was before surgery," Michelle recalled. "I started to cry. The nurse was in awe of him. And he was like, 'Wow, I can still sing.'"
Relief washed over the couple as reality sunk in. Tom had a long road of recovery ahead of him, but he could still sing.
Shared victories
After surgery, Tom started cancer treatment. A regimen of chemo pills and radiation, prescribed under the guidance of Dr. Alejandro Calvo, commenced with one big chemotherapy infusion on Michelle and Tom's 25th wedding anniversary.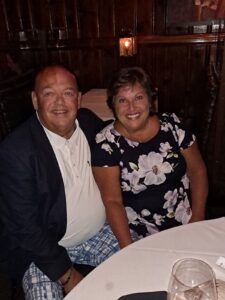 Michelle walked with Tom through it all. The long infusion days, the nausea, the fatigue. She got him blankets to keep him comfortable and sat with him even when he insisted on keeping his room at a crisp 63 degrees. She would get slices of cheese for him—the one thing he could actually eat. And she took him on near-weekly trips to Kohl's for new clothes that fit his body as he lost over 100 pounds. She made sure Tom didn't face cancer treatment alone.
"I always told people, 'We have chemo today,' or 'We have radiation today,'" Michelle said. "It was our journey, and we walked through it together."
So on Tom's last day of radiation, when he rang the bell celebrating the end of his treatment, it was a day of victory for them both. Radiation oncology nurses surrounded the couple, singing, clapping, and cheering for their shared victory.
Tom completed his treatment in March 2017, and he was ready to get back to his life.
"I was thinking, OK, in a couple weeks, this will clear out of my system, and I will start to feel halfway decent," Tom said. "That really didn't happen."
It wasn't until October that Tom felt better. And once he did, he knew he needed to see his friend.
"I'm going to see John"
Perhaps Tom's cancer gave him perspective. Or perhaps it was just that his best friend needed him. But as Tom readied himself to start working again, he told his wife, "I'm going to see John."
John, 63, was no stranger to cancer. He probably knew it better than most. He was first diagnosed with prostate cancer. When his PSA didn't drop as it was supposed to, he discovered he had developed lymphoma. Treatment for that went well, but he soon developed transformational acute lymphoblastic leukemia—a cancer typically found in children. Having just wrapped treatment for only one type of cancer, Tom knew three cancers in four years would take their toll on his best friend.
Any other time Tom made the trip to Arizona, he and John spent their time playing golf. If they weren't on the course, they were making plans for where to play the next day. But this trip was different.
"We didn't even look at a golf club while I was there," Tom said.
Instead, they sat. And they talked. They read books. They went out to dinner. They fell asleep on John's patio. But most of all, they savored the time they had to sit in each other's presence.
Tom returned home about a week later, and John prepared to leave for a cancer center in Houston to get treatment. But the treatment didn't work. John passed away the following January.
A finale of sorts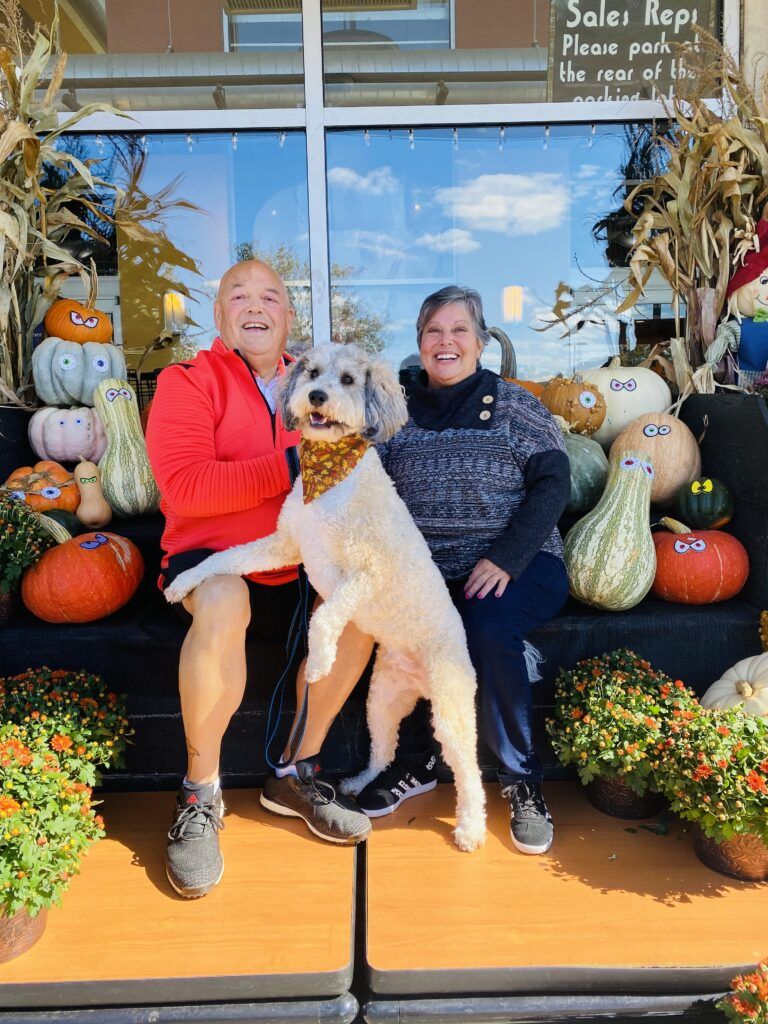 Tom knows what it is to be the patient. But he also knows what it is to be the support. He'd been there for his best friend, and then, he was there for his wife.
"We just take care of each other," Michelle said. "The way we were raised, that's what you do. Our parents are both gone. We have to take care of each other now. And we're good at it. We know how."
Five years later, it was Tom's turn to step up. He sat in a surgery waiting room as Michelle underwent knee replacement surgery. As he waited, Tom's phone rang. It was Louanne, a charge nurse Tom got to know during his cancer treatment. A month or so before, she asked Tom if he had any footage of him singing the National Anthem. He sent it over without question. But it was finally time to learn why she asked.
Stepping up
Tom stands on the field at the Cincinnati Bengals' home game against the Seattle Seahawks. It's October 15, 2023, the Crucial Catch game, part of the NFL's Crucial Catch campaign to fight cancer. All around him, thousands of fans hold up cards with "I Celebrate" printed above handwritten names—each representing someone affected by cancer.
Tom doesn't have a card. Who he's celebrating is etched on his heart. Reflecting on this opportunity, he said, "I'm going down there for our country. But at the same token, I'm singing for every cancer patient in the stadium, everybody watching TV." He's singing for those who lost their battle to cancer, like John. And he's singing for those loving someone through it all, like Michelle.
"It's not for me, it's for everybody else," Tom said. And he believes that. But as Michelle thinks about her husband singing for all of Paycor Stadium, she smiles, pride for her husband leaking from her eyes. Tom is her hero, and she can't help but reflect on what it took to get him there and how they did it together.
"We made it step by step, hand in hand," Michelle said, "and here he is."
Tom steps up to the mic. Echoes of his words from seven years ago hang heavy in the air, audible only to those who know his story, "I got this."
And from the very same throat that once held his cancer,

he sings.
The month's most popular health news, stories, and tips in your inbox.
Sign Up