Sports Medicine
Want to learn more about this at Kettering Health?
Learn More
Kettering Health holds walk-in injury clinics every Saturday morning through October 21, where athletes can have injuries evaluated by a board-certified sports medicine physician. The clinic features online scheduling and is open from 8-10 a.m. X-rays, bracing, and casting will be available on-site.
"The return of school sports usually comes with an uptick in acute orthopedic injuries," said Katherine Kingseed, Director of Outpatient Therapy for Region 2 and Kettering Health Sports Medicine at Far Hills. "These walk-in clinics offer a convenient way for athletes to be seen, evaluated, and put back on the path to their best health."
The clinics take place at the Kettering Health Sports Medicine office, located at 4403 Far Hills Avenue, Kettering, OH 45429. Visits will be insurance-billed, and co-pays will apply where applicable.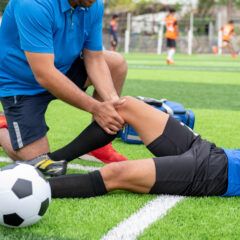 The month's most popular health news, stories, and tips in your inbox.
Sign Up