Orthopedic Care
Want to learn more about this at Kettering Health?
Learn More
Share the Care
Choose an option below to share this page
Besides thrilling us with their strength, speed, and dexterity, what do professional athletes from football, baseball, basketball, hockey, and golf have in common? They travel to Kettering Health for their hand and wrist surgery.
When a world-renowned orthopedic surgeon joined Kettering Health in the spring of 2021, the world of professional sports began arriving to Dayton, Ohio.
That's because Thomas J. Graham, MD, is recognized as one of the world's foremost hand surgeons. Dr. Graham's practice has long been established as the destination for the care of the professional athlete's hand and wrist.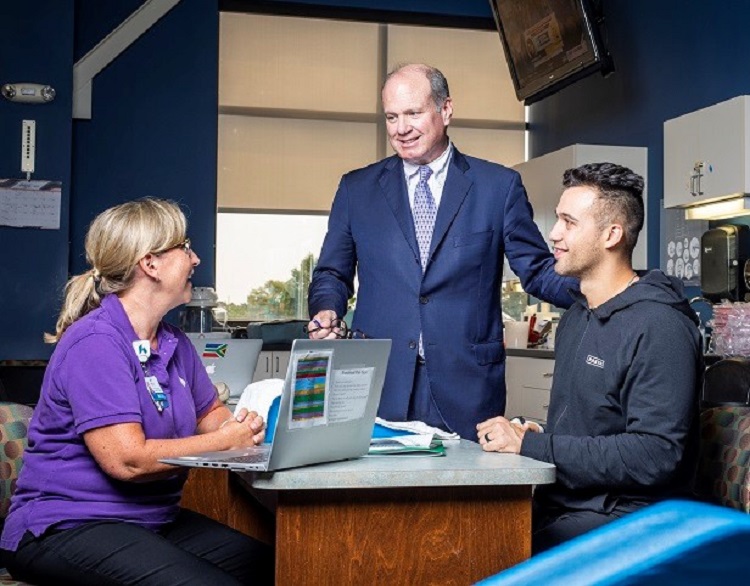 Dr. Graham has served as a hand surgery consultant, team physician, and medical director for numerous professional sports teams in the MLB, NFL, NHL, NBA, PGA, and LPGA.
An Ohio native, Dr. Graham established his career at Cleveland Clinic, where he became healthcare's first chief innovation officer and also served as the vice chairman of the Department of Orthopaedic Surgery.
From 2000-2010, Dr. Graham also served as the chief of the Congressionally-designated Curtis National Hand Center in Baltimore, the world's largest practice in the specialty.
An early calling
Dr. Graham remembers when he decided to become a hand surgeon. "I was eight years old, watching the first news broadcasts describing the advent of open-heart surgery. And instead of focusing on the beating heart, I watched the ballet of these unbelievably deft hands operating on the heart."
From his home in East Liverpool, Ohio, Graham wrote to the featured surgeon, Dr. Michael DeBakey. The famous medical pioneer from Texas not only replied but continued a mentor-mentee relationship with Graham for more than four decades. "I still have those inspiring letters," says Dr. Graham, now in practice for more three decades.
Knowing from such an early age that he wanted to be a physician-scientist gave Graham a head start in his career. But his life was more than academics. An accomplished athlete, he competed at a national level as a long-distance runner at a time when Eastern Bloc athletes started to emerge with extraordinary capabilities.
"We learned later it was because of certain scientifically-based training methods," he says. "I knew that I was not going to be an Olympian, but I thought, 'I know these athletes are working on their performance, and I probably could have insight from my world of science and medicine to create a nexus between the two worlds—sports and science'."
His college thesis on how to train athletes scientifically helped land him a position as an exercise physiologist with the United States Olympic Committee, then preparing to field the team competing in the 1984 Summer Games in Los Angeles. "The pinnacle of testing my theories was the Olympics," Dr. Graham says. "I didn't make it as an athlete, but I was able to contribute as a scientist."
Finding his niche
Graduating from Williams College in Massachusetts, followed by medical school at the University of Cincinnati, Graham served his orthopedic surgery residency at the University of Michigan where he took care of the Wolverines. Graham then completed his hand surgery fellowship at the famed Indiana Hand Center, and the nation's first fellowship in elbow surgery at the Mayo Clinic.
"During my training and early career, I was seeking ways to associate orthopedic surgery, hand surgery, and sports medicine," Graham describes. "Sports medicine was emerging as a specialty, doing extraordinary things with knees and shoulders through the newly developed arthroscope, but nobody was paying attention to the hand and wrist injuries that were preventing the athletes from competing."
Dr. Graham then began his career at Cleveland Clinic in the early 1990's. There, he was invited to join the medical staffs of the Browns, Cavaliers, and Indians. He is in his 25th year as a team physician in Major League Baseball.
Another factor that "supercharged" Dr. Graham's ascent to become the go-to surgeon for athletes was his relationship with famous professional golfer, businessman, and philanthropist, Arnold Palmer.
Growing up near Palmer's home in Latrobe, Pennsylvania, Graham idolized the legendary golfer's achievements, later becoming friends with the icon.
"Because of my friendship with Mr. Palmer, he trusted me with not only his own care, but he sent me hundreds of fellow athletes," said Dr. Graham.
Together they opened the Arnold Palmer Sports Medicine Center in Baltimore in 2006, and Dr. Graham served as its Surgeon-in-Chief.
A living laboratory
Working with elite athletes inspired Dr. Graham to continually push the boundaries of hand surgery.
"They're the one group in the world that demands 100th percentile outcomes," he says. "If you throw a baseball 96 miles per hour, you're in Cooperstown. If you throw it 86 miles per hour, you have to find a job outside professional sports. It is the ultimate test of surgical science: can you restore someone to that level?"
The athletes themselves were perfect candidates and eager partners for Dr. Graham's innovative approaches. "They have the best protoplasm. They're incredibly dedicated, and we have every resource available to care for them," he explains. Also, the outcomes are measurable. "My successful outcome isn't the angulation on an X-ray or how the scar looks. It's a batting average or how many touchdowns the quarterback throws."
Dr. Graham also sought innovative ways to shorten recovery time so athletes could return to play in the same season. "Putting injured athletes in a cast for months—the accepted treatment for many injuries at the time—was not acceptable in this population," Dr. Graham explains. "We had to develop ways to restore anatomy, modify rehabilitation, and accelerate return to play."
As a result, Graham's pioneering work in hand and wrist surgery has advanced in ways that benefit all patients. "What I've learned from taking care of that unique population, I've brought into the day-to-day practice of hand surgery," he says. "We benefited from the experience in the 'laboratory' of professional sports that almost no one gets to see. Then adopted those techniques and technologies to change the paradigm of care for everyone."
Caring for community members
Dr. Graham has operated on more than 2,000 professional athletes, as well as entertainers, world leaders, and other high-profile patients. But he says he can't afford to be "starstruck" while caring for a celebrity patient: "I see them as a person, whose job is to be a player, who today happens to be a patient," he says. "I recognize that I'm seeing them at their lowest point—they are hurt and worried about their livelihood."
Equally important to him are the members of his community. Graham is well-known for never refusing care to those who require his specialized skills. His caring for survivors after the 9/11 attack on the Pentagon became the subject of a documentary—and display in the Smithsonian Institution.
"I think people have the misconception that I care only for athletes or famous individuals," said Dr. Graham. "I am dedicated to helping our friends and neighbors receive the best care."
Dr. Graham has also shaped the contemporary practice in hand surgery in other ways. He has trained hundreds of surgeons (several of whom now practice in the Dayton region), published more than 100 scholarly articles, and holds more than 60 patents for medical devices.
The move to Dayton
With such a remarkable career, what led Dr. Graham to Dayton—and to Kettering Health in particular?
"First of all, I'm an Ohio native," he says. "I wanted the last chapter of my career to be about giving back to the state that gave me so much.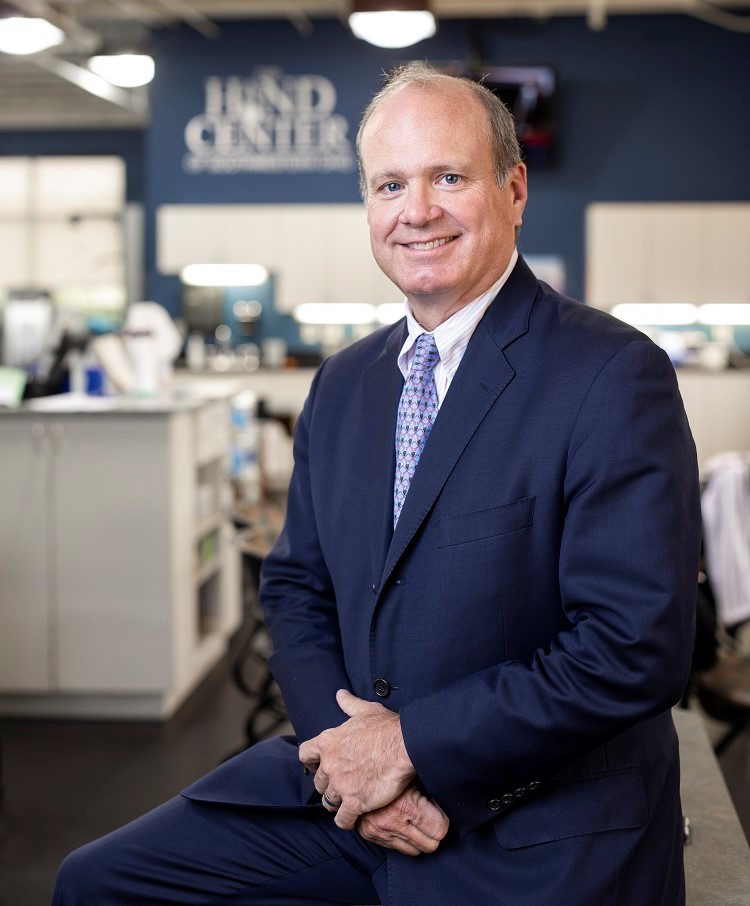 "I was born here; I was educated here; I had my first job here. I married my childhood sweetheart. And we've always maintained a residence in Ohio. I'm back to where I belong and where I'm most effective and committed.
"Second, the Hand Center of Excellence is the most sophisticated and highest volume specialty center of its kind in the state. We have a destination-level Hand Center right here in Dayton. We are the worldwide destination for the care of the athlete's hand and wrist." Graham insists, "World-class care is being rendered in essentially every specialty right here in our ZIP code. Patients do not need to leave the region to have common or complex problems addressed with skill and empathy."
Recapturing Dayton's innovative spirit
Dr. Graham admits that his pathway has been unique. "I've learned from it. I've had extraordinary experiences. And I want to transfer that trust. I want to take my more than 30 years as a physician-executive and plant that knowledge and those relationships here so they can flourish long after I retire."
When not wearing scrubs, Dr. Graham serves as Kettering Health's inaugural Chief Innovation and Transformation Officer. In this role, he guides Kettering Health to continue a legacy of innovation, established by its founder, Charles F. Kettering, and other historic Dayton pioneers.
Leveraging his immense expertise, Dr. Graham will harness his creative thought, entrepreneurial spirit, and innovative vision to re-establish Dayton as a center for innovation. "Dayton was Silicon Valley of last century. We must recapture that creative spirit to solve big problems for large populations faster and more economically."
Coming home
Graham's dedication to community economic development is also well known. His association with programs at the regional or state level have created hundreds of new companies and thousands of Ohio jobs. "That's why I'm here," he says. "I wanted to find a place that could continue to stimulate me and to which I can contribute, and we could grow together at this stage of my career."
With more than 30 years in professional sports, Dr. Graham knows what it's like to be a part of a "championship organization." Graham shared that "healthcare is a team sport. And I couldn't be more honored than to join so many valued colleagues at Kettering Health at this exciting time as we define the future of medicine as one system rendering care across the region and for patients across the country."
Dr. Graham concludes: "It all comes down to the people. Kettering Health has the dedication to serve and culture to care. We combine high-tech and high-touch as well as anyone in modern healthcare. I'm just honored to contribute to that legacy of excellence."
In a storied career of grand slams, Dr. Graham has finally reached home.