Kettering Health is teaming up with the Cincinnati Bengals to find cancer in its earliest stages.
The foundation of Kettering Health join the fight against cancer by raising funds to promote early detection and support those in treatment. The foundations raise money for preventative care, support services, and research on advanced screenings.
The Foundations of Kettering Health
Cancer patients at Kettering Health have an entire team behind them, and the foundations of Kettering Health are part of that team.
Preventative Care and Treatment

Our foundations provide patients with the screenings and treatment they need to prevent and fight against cancer.

Learn More

Support Services

Programs such as Courageous Beauty, CLIMB, and other resources support cancer patients by guiding them through their journey and providing a community.

Learn More

Research and Clinical Trials

With research and clinical trials, we are able to bring innovative cancer care to patients.

Learn More
Cancer Screening & Prevention
Crucial Catch's mission is to fight cancer through early detection and risk reduction. Through prevention resources, screenings, and world-class cancer services we are committed to helping you be your best. 
A breast cancer diagnosis changes lives in an instant. In the US, the average risk of a woman developing breast cancer sometime in her life is 13%.
The best breast-cancer outcomes come with detecting your cancer early and receiving treatment early on in your battle. Breast cancer that is found early is typically smaller and has not spread to other areas of the body. Regular screenings are the best way to detect breast cancer early.
Screening Guidelines: 
Women age 40 and over should have a screening mammogram every year.
Women age 55 and older are recommended a mammogram screening every two years.
In some instances you may need to begin mammograms earlier, such as if you feel a lump or if you have a family history of breast cancer. Please talk to your doctor regarding your personal risk.
Cervical Cancer can often be found early, and when found early is one of the most successfully treatable cancers. Cervical cancer can also be prevented with the HPV Vaccine. 
Teens and young adults through age 26 years are recommended to get the HPV Vaccine. HPV can cause 5 types of cancer. While HPV cannot be treated, it can be prevented by getting the vaccine.  
Screening Guidelines: 
Women ages 21-29 should schedule a Pap test every three years. 

 

From age 30 to 69, women should schedule an HPV and Pap test every five years or just a Pap test every three years. 

 

Women over 66 who receive negative HPV and Pap tests can consider stopping screenings.

 
Regular screenings provide necessary opportunities to find colon cancer at an early stage before it has spread.
Our screenings enable us to catch changes in a patient's colon and rectum—such as benign growths or polyps—before they turn cancerous (malignant). Finding them early can mean the difference in years lived.
Screening Guidelines:
Men and women 45 and older should schedule a fecal immunochemical test or fecal occult blood test every year. Other options include: 
Stool DNA test every three years

Flexible sigmoidoscopy every five years

Colonoscopy every 10 years 

CT colonography (virtual colonoscopy) every five years
We know that early detection can mean the difference between a positive or negative prognosis. So, we've developed a low-cost, early detection program for those at risk of lung cancer.
Our program includes a low-dose lung CT screening that has proven to detect 85% of early-stage lung cancers.
Screening Guidelines:
Are 50 to 80 years old and in fairly good health,

and

 

Currently smoke or have quit in the past 15 years,

and

 

Have at least a 20 pack-year smoking history. (This is the number of packs of cigarettes per day multiplied by the number of years smoked. For example, someone who smoked 2 packs a day for 10 years [2 x 10 = 20] has 20 pack-years of smoking, as does a person who smoked 1 pack a day for 20 years [1 x 20 = 20].)

 
Prostate cancer is one of the most common cancers among men. It is highly treatable and has a high survival rate. Even so, it is scary to be diagnosed with prostate cancer, and we recognize that. Our cancer team at Kettering Health is here to help you get through this. 
The American Cancer Society (ACS) recommends to talk with your health care provider about whether to be screened for prostate cancer.
The discussion about screening should take place at: 
Age 50 for men who are at average risk

 of prostate cancer and are expected to live at least 10 more years.

 

Age 45 for men at high risk

 of developing prostate cancer. This includes African Americans and men who have a first-degree relative (father or brother) diagnosed with prostate cancer at an early age (younger than age 65).

 

Age 40 for men at even higher risk

 (those with more than one first-degree relative who had prostate cancer at an early age).

 
After this discussion, men who want to be screened should get the prostate-specific antigen (PSA) blood test. 
Click here to learn how to schedule your annual wellness visit with your primary care provider. 
Skin cancer is the most common cancers in the United States with 1 in 5 Americans developing skin cancer by the age of 70. With early detection, the 5-year survival rate for skin cancer is 99%.
Screening and Prevention Guidelines:
Routine total body examination by your primary care physician or dermatologist.
Report any unusual moles or changes in your skin to your doctor and discuss if you are at increased risk for skin cancer.
Using sunscreen and avoiding sun exposure when possible is proven to significantly decrease risk of skin cancer.
Click here to learn how to schedule your annual wellness visit with your primary care provider. 
Cancer Care at Kettering Health
Kettering Health focuses on a holistic cancer care approach to treat the whole person: mind, body, and spirit.
We make it easy for you to get personalized care when and where you need it. At Kettering Health, dedicated and experienced cancer specialists work with you through every step of your journey.
Learn more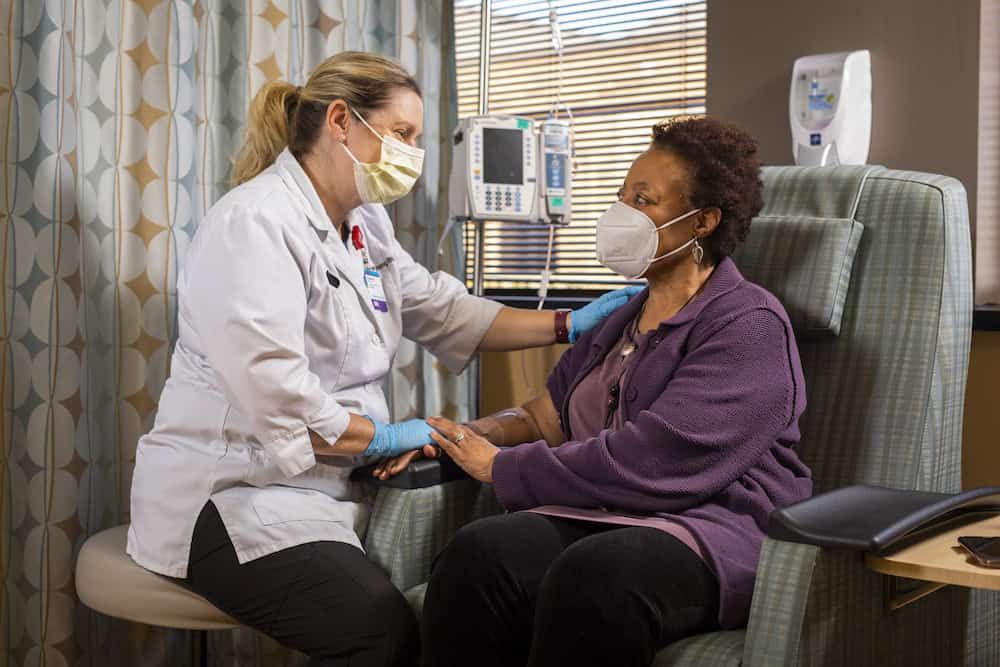 The Foundations of Kettering Health
The Foundations of Kettering Health raise money for medical research, technology, and preventative care for the uninsured and underinsured. Funds raised help us provide the best care possible.
Consider a donation to support your community.
Make a Gift